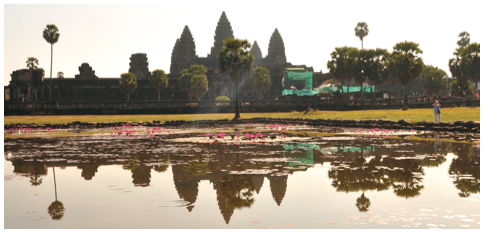 01/02/2011
WYCIECZKA DO KAMBODŻY / TRIP TO CAMBODIA 
Dwa tygodnie temu wybraliśmy się wszyscy w piątkę na 5 dni do Kambodży zobaczć na własne oczy kompleks świątyń Angkor. 
Angkor to jedno z największych i najważniejszych archeologicznych miejsc w Południowo-Wschodniej Azji. Rozciąga się na powierzchni ponad 400km2 i wraz z terenami lasowymi zawiera pozostałości Imperium Khmer'ów panujących w okresie od IX do XV wieku na terenie obecnej Kambodży. 
Jako że to już nie Malezja, naszą wycieczkę postanowiłam opisać w naszym Wakacyjnym Blogu. Wszystkich mediów nazbierało się tyle, że sortowanie ich, montaż i opisanie wycieczki zajęło mi ostatnich kilka dni. Teściowa i szwagierka dzielnie zajmują się Mayą więc mam więcej czasu :)
Poczytaj o naszej wycieczce do Kambodży  >>>>> 
Two weeks ago all five of us went to Cambodia for 5 days to visit Angkor temples complex. Angkor is one of the biggest and most important archeological places in South-East Asia. It stretches over 400 square km including forested area and it contains the remains of the Khmer Empire, from the 9th to the 15th century. 
As this trip is outside Malaysia, I decided to write about it in our Holiday Blog. The number of all media we collected is so high that sorting the photos and making the movies and writing about it took me a few days. My mother-in-law and sister in law bravely babysit and play with Maya so I have more time :) 
Read about our trip to Cambodia >>>>>