11/07/2010
Niedaleko naszego hotelu znajduje się miejsce zwane Woongjin Play lub też znane jako TigerWorld czy Playdoci ('doci' to 'miasto, misteczko') (www.playdoci.com).  Znajduje się tam 'pole' golfowe (na zdjęciu po lewej), park wodny i sztuczny stok narciarsko-saneczkowy pod dachem (na zdęciu po prawej). We wszystkich miejscach maja wypożyczalnie sprzętu.
Just round the corner from our hotel there is a place called Woongjin Play, also known as Tiger World or Playdoci ('doci' means 'city, town'), www.playdoci.com. There is a very big golf centre (in the photo on the left), water park and a ski/sledge slope under the roof (in the photo on the right). In all those places you can rent any equipment you might need.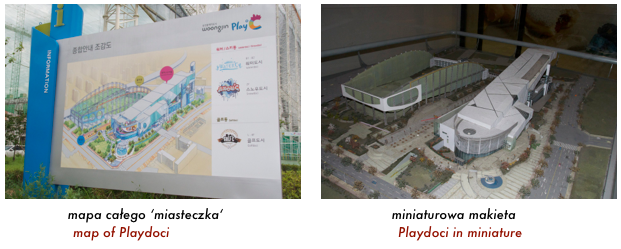 Stok narciarski (Snowdoci) otwarty został w lipcu 2007 i jest trzecim w kolejności w Azji (po Chinach i Japonii), i dwunasty na świecie. Jest podzielony na 270-metrowy główny stok (40 m szerokości) i 70-metrowy dodatkowy stok (30 m szerokości). Można tutaj jeździć na nartach, na snowbardzie i na sankach. Co do jazdy na nartach to jesteśmy kompletni ignoranci (wolimy nurkowanie!) chociaż chętnie wzięłabym jedną lekcję jazdy na nartach. A nuż nam się spodoba! Jeszcze sie zastanawiamy.
Park wodny (Waterdoci) to różnego rodzaju baseny i zjeżdżalnie wodne. Wizytę narazie rozważamy. 
Pole golfowe (Golfdoci) ma 360 jardów (zasięg prawdziwego pola golfowego) i 200 stanowisk (4 poziomy, 50 stanowisk na każdym poziomie). Niedaleko Playdoci (na przeciwko naszego hotelu) znajduje się kilkanaście sklepów (wszystkie obok siebie) dla golfiarzy więc dla amatorów golfa - raj na ziemi. 
Ski slope (Snowdoci) was opened in July 2007 and is a 3rd one in Asia, after one in China and Japan, and 12th in the world. It is divided into the main 270m slope (40m wide) and a 70m additional slope (30m wide). You can ski, snowboard and sledge here. We have never tried skiing before (we prefer scuba diving!) but it is a bit tempting. Once we try it, we might like it :) 
Water park (Waterdoci) is just a regular collection of pools and slides. We are still considering whether to visit it or not. 
Golf course (Golfdoci) is a full size 360 yard golf course. It has 200 stands (4 levels, 50 on each level). Not far from our hotel there is over a dozen of golf shops, all next to one another. A little 'paradise' for golf enthusiasts.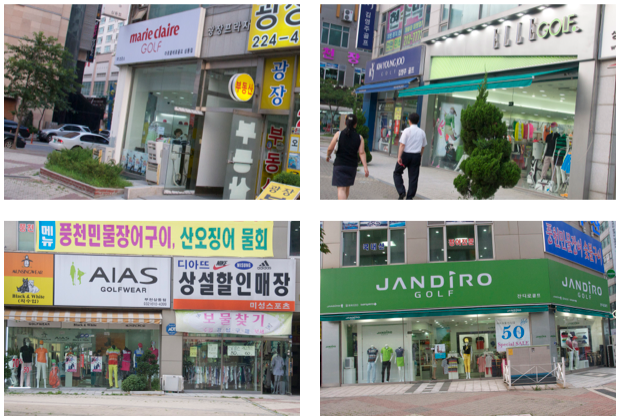 Piotrek nigdy w golfa nie grał więc postanowił wziąć jedną lekcją i zobaczyć czy mu się spodoba. Kupił jedynie rękawicę a kij pożyczył w ramach lekcji. Instruktarz trwał pół godziny a drugie pół Piotrek sam sobie ćwiczył postawę i uderzanie w piłeczkę tak żeby zaleciała jak najdalej, bo w golfie o to między innymi chodzi. Lekcja kosztowała 50,000 WON (około 130 PLN) a godzina za stanowisko - 20,000 WON (około 52 PLN).
Piotr never played golf so decided to take one lesson and see if he likes it. He bought a glove and borrowed a golf club. The lesson was 30 min and then he practiced for another 30 min making sure the ball he hits goes as far as possible.  The lesson cost 50,000 WON (about £27), and one hour of using a stand - 20,000 WON (about £11).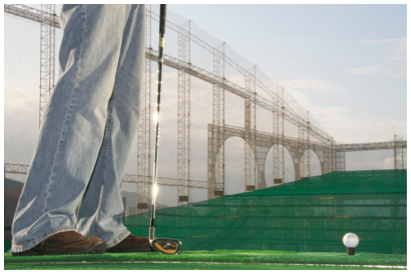 Maya była grzeczna i nie marudziła a mnie generalnie głowa bolała od tych hałasujących uderzeń w piłeczki co sekundę. Skupiłam się więc na robieniu zdjęć i kręceniu filmików, drugą ręką zabawiając Maykę i co z tego wyszło można zobaczyć tutaj:  
Maya behaved really well but the noise of constant hitting the balls around got me a headache. So I focused on taking photos and a bit of filming, playing with Maya at the same time (ha! multi-tasking!). You can see the result here: