07/01/2011
SZCZĘŚLIWEGO NOWEGO ROKU 2011 / HAPPY NEW YEAR 2011
Z wakacji na Borneo wróciliśmy na dwa dni przed końcem starego roku. Sylwestra spędziliśmy skromnie ale całkiem przyjemnie. Z małym dzieckiem opcje się zawężają ;)Wybraliśmy się na kolację do hotelu obok (The Saujana Hotel) i poszliśmy pieszo bo to dosłownie 5--10 min spacerem od nas. Do tego hotelu czasami chodzę z Mayą na spacery bo mają tam kawałek placu zabaw i zadbaną sporą ilość trawy po której Maya lubi szaleć. 
We came back from our holiday in Borneo just two days before the end of the old year. For the New Year's Eve celebration we decided to spend it in a modest but really nice way. With a baby you don't really have too many choices. We went for dinner to The Saujana Hotel right next door from our condo, and it is just a 5-10 min walk from us.  I take Maya for walks quite often to this hotel as they have a bit of a play area for kids and a well-maintained grass where Maya likes to fool around. 
Wieczór kosztował nas niecałe 300 Ringgit (trochę ponad £60 / 300 PLN). Kolacja była 'bufetowa' (samoobsługa) czyli jedz co chcesz i ile chcesz. Do wyboru były różne rodzaje mięs, ryby, owoce, lody, desery. Zjedliśmy po trochu z większości, Piotrek napił się piwa i zjedliśmy trochę deserów a wybór był spory - królowała czekolada więc różności do wyboru ale prawie wszystkie z czekoladą lub z czeklady - sernik czekoladowy, mus czekoladowy, murzynek, czekolada, fontanna z czekolady, itp itd. Pychota :) 
The dinner cost us just under 300 Ringgit (circa £60). It was a buffet dinner and we had a choice of different types of meats, fish, seafood, fruit, ice cream, desserts. We ate a bit of most of it, Piotr had a couple of beets and we had some desserts and the choice was really big - the chocolate was the queen of the night so most of the desserts were made of chocolate, or with chocolate - chocolate cheesecake, brownies, chocolate mousse, chocolate fountain, etc. etc. Delicious :)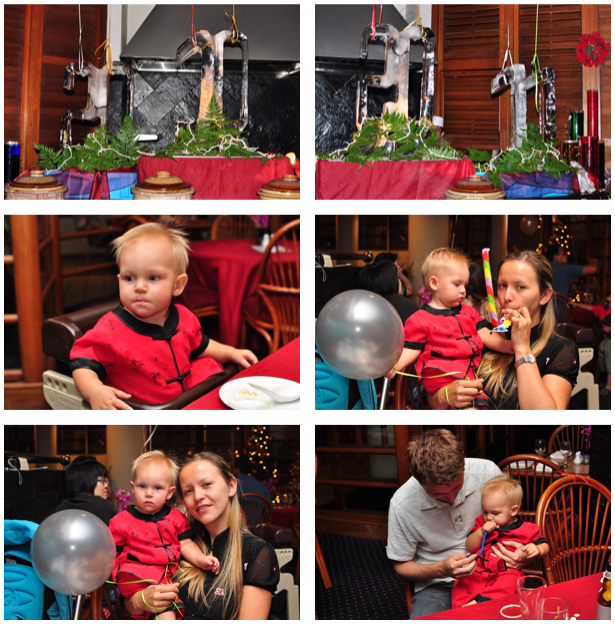 Maya trochę z nami zjadła a potem szalała z kilkoma dzieciakami, bawili się głównie balonami a później poszliśmy na zewnątrz. Przy restauracji na dworze rozłożony był duży dywan i trochę zabawek (kolcki i piłki) dla dzieci do zabawy, bo dzieci trochę było w restauracji. Maya trochę się bawiła piłkami ale głównie interesowały ją liście. 
Maya had some dinner with us and then she went wild with some of the other kids, playing mainly with balloons. Later we went outside and there was a big carpet with some blocks and balls for kids to play with, and there were quite a few kids in the restaurant. Maya playd with the balls a bit but she was more interested in the leaves.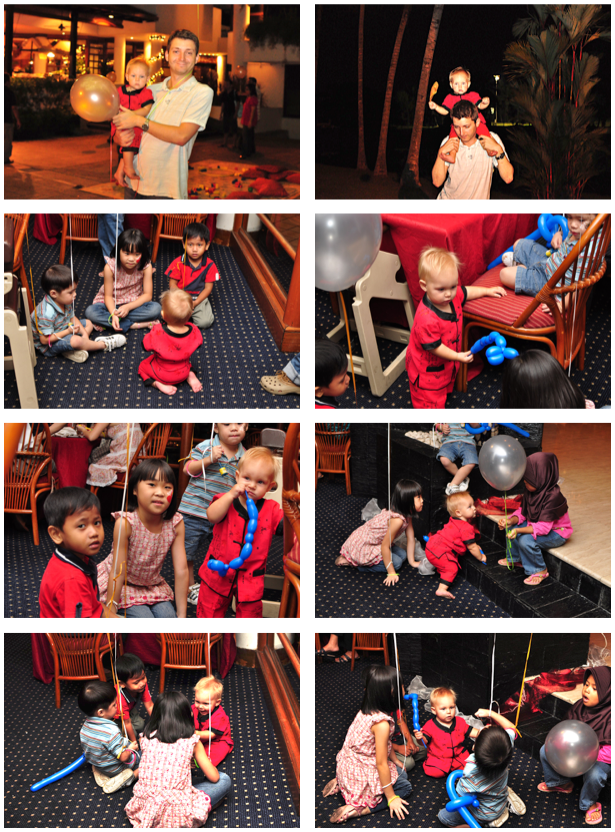 Na zewnątrz oglądaliśmy też popisy miotacza ogniem: 
We also watched a bit of an entertainment - a guy playing with fire: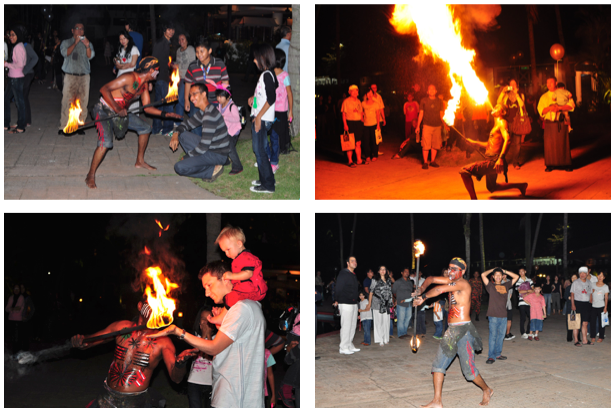 Północ wybiła i przywitaliśmy Nowy Rok 2011 przy basenie oglądając całkiem niezły pokaz fajerwerków. Szczęśliwego Nowego Roku! 
The clock stroke midnight and we welcomed the New Year 2011 by the pool watching a pretty spectacular fireworks display. Happy New Year 2011!