22/07/2010
Po wylądowaniu w Korei wydawało by się, że spotka nas szok kulturowy ale okazało się, że aż tak nas nie dopadło.  To chyba dzięki temu że zwiedziliśmy już trochę innych krajów, w różnych krańcach świata, poznaliśmy różne kultury, Korea nie okazała się aż tak wielkim szokiem.
Jak Koreańczyk wygląda każdy wie. Ale odróżnić Koreańczyka od Japończyka czy Chińczyka to chyba mało kto potrafi. Nawet tutaj jak chodzimy z naszymi Chińskimi znajomymi jadać to Koreańczycy mówią do nich po Koreańsku, bo się im wydaje, że to też Koreańczycy. 
Dla mnie osobiście oni wszyscy są bardzo podobni. Obsługę hotelową rozróżniam ale na ulicy jak widzę babkę czy faceta to często mam wrażenie jakbym już ich kiedyś spotkała.  
After landing in Korea one would think that we will experience some kind of a culture shock but it turned out it didn't happen. I think it's mainly because we already visited a few countries, in different parts of the world and we already met different types of cultures. Korea turned out not to be such a big shock after all. 
We all know how a native Korean looks like, but it would be really difficult to distinguish a Korean from a Japanese or a Chinese native. Even here when we go out with Piotr's Chinese workmates, Koreans speak to them in Korean because they take them for Koreans. For me personally they all look alike. The hotel staff - I can tell who is who, but if I see a man or a woman in the streets, I always have a feeling I already met them somewhere before.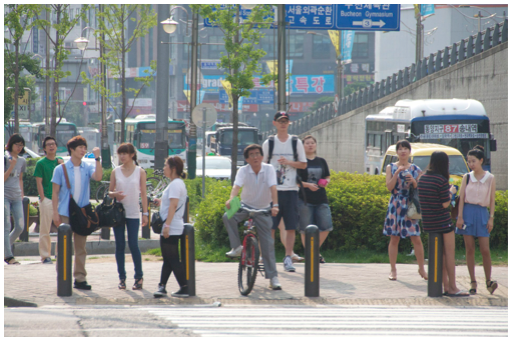 Ogólnie to jest tutaj dosyć tłoczno. Wystarczy się rozejżeć dookola - bloki, bloki, bloki, 15-30 piętrowe więc na ulicach widać ten tłok. Ubierają się raczej na luzie i ekstrawagancji ani jakiejś przesadnej elegancjii nie widuję. W taką wilgoć i upał to mało komu się chyba chce :)
You can really tell that it's a crowded country. It's enough to just look around and all you see are tens of apartment blocks, 15-30 floors each. They usually dress casually and you don't see many overdressed or over-made-up people. I believe the humidity and heat are just too much to care :)  
Ludzie, których widuję w parkach głównie ćwiczą, biegają, chodzą, jeżdżą na rowerach czy rolkach. Sporo ludzi siedzi na ławkach i odpoczywa. I to wszystko w ciągi dnia, w środku tygodnia. Ci co dbają o kondycję są najczęściej poubierani od stóp do głów. Mają często założone rękawiczki, maski ('chirurgiczne') na twarzach,  czapki, kapelusze bądź duże daszki czy też chodzą z parasolkami. To wszystko ochrona przed słońcem, nawet jak jest zachmurzone niebo. 
People I see in the parks, mainly run, exercise, walk, ride bikes or roller skate. There are a lot of them just sitting and resting. And it all happens during the day on a weekday. Those exercising or riding bikes, are usually dressed tip to toes, covered heads and faces, wearing long sleeves, and gloves. It's a protection from the sun, even when it is cloudy.  

Fakt: Koreańczyk od tyłu wygląda jak Europejczyk ;)
Dzieci tutaj jest sporo ale niemowlaki widuję głównie noszone u mam w chustach bądź nosidełkach podobnych do naszego.  
It's a fact that a Korean native looks like European from the back ;)
There are quite a lot of kids and babies here, but with babies they mainly are carried around by mums in baby carriers similar to ours.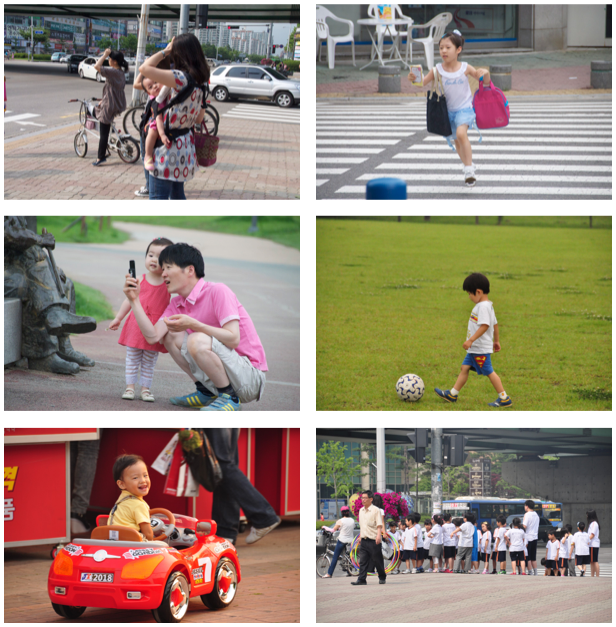 Koreańczycy są na ogół uprzejmi (w hotelu, w sklepach, itp). Na porządku dziennym jest tutaj skinienie głową na dzień dobry, do widzenia, czy z każdym dziękuję. Pieniądze, na przykład, podaje się dwoma rękami bądź druga ręka podtrzymuje za łokieć rękę podającą. Podawanie jedną ręką jest uważane za niegrzeczne. Nasz klient, nasz pan.
Mało kto mówi po angielsku ale spokojnie można byłoby się dogadać na migi ale jakimś dziwnym trafem nie z każdym jest to wykonalne i po prostu się poddają się…  Na szczęście w większości miejsc napisy są po angielsku więc można spokojnie funkcjonować. W większości restauracji albo są menu obrazkowe albo są i obrazki i nazwy po angielsku więc wystarczy pokazać palcem.
In general, locals are really nice to us (in a hotel, in the shops, etc). They usually bow when saying Hello or Thank you. When paying, money/credit card is being handed with both hands or with one hand placed on, or under, an elbow of the arm that is handing the money. If you do it with one hand, it is considered rude. 
Not a lot of people speak English, and it would be pretty easy to use gestures and/or pictures but sometimes it is not possible with them, as if they give up and refuse to make an effort to understand what you have to say or want. Luckily in most of the places and around the city the signs are in English. In most of the restaurants the menus have pictures, and sometimes even names of dishes in English so just use your finger and point to what you want to eat.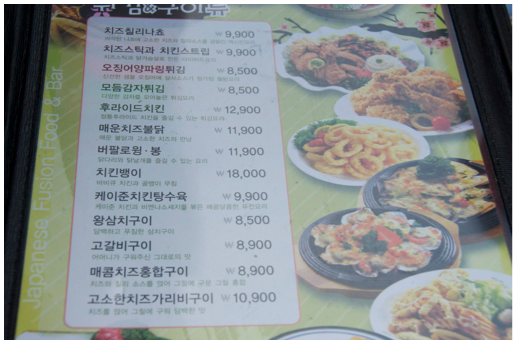 Zachowanie i kultura to zupełnie inna bajka. Z reguły nie przepuszczają w drzwiach czy to idę sama czy z wózkiem, bez znaczenia. Miejscami nawet nie przytrzymują drzwi otwartych żeby mi było łatwiej z wózkiem wjechać. Idą przed siebie i nie interesują się otoczeniem. Stanie w kolejkach nie jest w ich zwyczaju i pchają się kiedy tylko jest okazja. Kto pierwszy ten lepszy. Pchają się może to za dużo powiedziane, powiedziałabym że pchaja się kulturalnie. Stojąc w kolejce np do windy, jak tylko widzą możliwość ustawienia się jak najbliżej drzwi to korzystają z sytuacji. Nie ważne że ja przyszłam wcześniej, i do tego jeszcze z wózkiem. Kiedyś chciałam zjechać piętro niżej w Hyundai'u i jakieś 15 min zeszło zanim wkońcu winda która przyjechała (są 3) była na tyle pustawa że mogłam się zmieścić z wózkiem. Inni, bez wózków, oczywiście pchali się wcześniej bo dla nich było miejsce. A tłumy wszędzie więc nawet czasem czekanie na windę trwa dosyć długo.
W Homeplus jak robimy zakupy, z wózkami jeżdżą jak im się podoba. Jak w weekend jest tłok to tylko się przeciskamy miedzy wózkami a oni nie patrzą gdzie idą ani jak idą, stają gdzie im się podoba, nie patrzą czy stoją na środku i czy blokują przejście. Mają innych raczej w głębokim poważaniu. 
Na drodze zachują się podobnie. Kierowcy na przejściach nie zatrzymują się, żeby przepuścić pieszych. Nawet jak już fizycznie jestem na przejściu to i tak przejeżdżają chyba że się im dosłownie 'wejdzie' pod maskę no to wtedy wyjścia nie mają i muszą się zatrzymać. Jeżdżą trochę po piracku, nie w głowie im wpuszczanie czy przepuszczanie innych aut. Stają na pasach a nawet na czerwonym świetle jadą jak mogą czyli "jak wszystko inne już przejechało i na przejściu nie ma pieszych a ja mam czerwone to np. w prawo i tak skręcę bo przecież nic nie jedzie." Przy przejściach dla pieszych to wydaje się jakby do jakiegoś wyścigu się ustawiali, przed pasami, na pasach, za pasami, żadna różnica dla nich. 
Behaviour and manners are a different story. In general they won't let you go first in the doors, no matter if you have a pushchair or not. Sometimes they don't even bother to hold the door to make it easier for me to go through. They just don't care what is happening around. Queuing is not their thing, and they use it whenever they can. Sometimes last come, first served. When queuing to the lift, whenever they see an opportunity they just go first even when they arrived last and don't care if I was there first. One day I wanted to go one floor down and waited about 15 min before I could actually go in the lift as they were packed, plus other people were just queue jumping. 
At Home plus when we do shopping, everyone push their trolleys as they feel like it. During the weekend it is pretty crowded so you just squeeze in between the trolleys. They don't really look where they're going, or standing, and they don't care whether they are blocking the alley or not. 
On the road the behaviour is similar. The drivers have little intention of stopping at the crossings to let you go. Even if you are already on the crossing, they will still keep going, unless you really walk out to the middle so that they have no choice and have to stop. They really drive a little manically; they don't even think of letting other cars in from side roads. They stop on the crossings, and if there is a red light, they usually go anyway, if there is no other car coming. I think the general rule is that you can go on the red light, if there is nothing else coming, no pedestrians on the crossing and you are not causing any danger. Sometimes at the traffic lights you can see as if they were taking part in some sort of a chase, stopping on the crossing, behind or in front of the junction - doesn't really matter. 
Kilka ciekawych ujęć bywalców parków:  /  A few interesting shots of people in the park: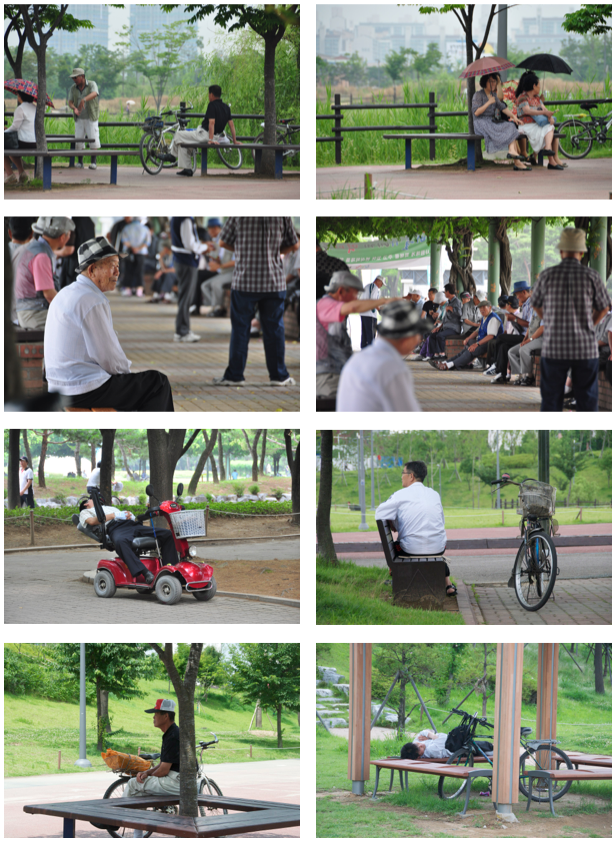 Nas nic złego z ich strony nie spotkało i raczej są dla nas mili więc nie będę na nich narzekać. Co kraj to obyczaj :)
To conclude, Koreans are usually really nice to us so I won't say too many bad words about them :)