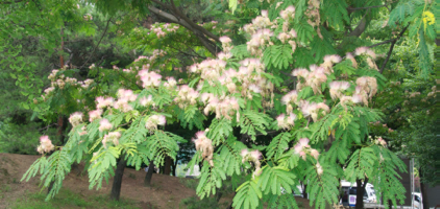 14/07/2010 
W promieniu 15-20 min piechotą od hotelu są 4 parki (tyle narazie udało mi się odwiedzić) do których czasami chodzę na spacery z Mayką. Najczęściej chodzę do Sangdong Lake Park, który znajduje się dosłownie 5 min piechotą od naszego hotelu, po drugiej stronie obwodnicy: 
Within a 15-20 min walk from our hotel there are about 4 parks (that I managed to visit so far), where I take Maya for walks sometimes. Sangdong Lake Park is the one closes to our hotel so we visit it most often, and it's only 5 min walk away. 

Sangdong Lake Park znajduje się zaraz przy Playdoci. Jest tam wielkie jezioro z fontannami, masa ławek i miejsc do siedzenia, niektóre zadaszone więc można posiedzieć i w słońcu (powodzenia!), i w cieniu. Do tego dochodzą fontanny-brodziki, w których dzieciaki mogą się popluskać - w tygodniu pustawo ale w weekend dosyć tłoczno. Jest tam też spory kawałek terenu, na którym uprawiane są zdaje się ziemniaki słodkie (bardzo tutaj popularne), ryż i sporo słoneczników (i pewnie jeszcze coś ale tylko ww udało mi się wydedukować).
Sangdong Lake Park is right next to Playdoci. There is a big lake with fountains, a lot of benches and places to sit, some of them covered so there is a lot of shade, but you can also sit in the sun (good luck with that!). There are a few fountains/splash pools for kids - empty during the week but weekends are pretty busy. In the park there is also an area where they grow rice and sweet potatoes (very popular here) and also sunflowers. There is probably more but these are the only things I managed to identify. 

Niedaleko hotelu jest następny park, długi i wąski bo biegnie między osiedlem apartamentowców, a główną obwodnicą. Właściwie to przez ten park przechodzę jak idę do wcześniej wspomnianego Sangdong Lake Park. Na całej dlugości płynie rzeczka i są w niej bardzo głodne ryby które czasem chodzimy z Mayą karmić (kupionym popcornem). 
Not far from the hotel there is another park, long and narrow, runs between the estate of apartment buildings and the main express road. We usually cross this park when going to Sangdong Lake Park. There is a some sort of a city stream going along with very hungry fish that we sometimes feed with popcorn. 

Udając się w przeciwną stronę po wyjściu z hotelu, jakieś 10 min spacerkiem znajdują się dwa małe skwery Anjunggeun Park & Gyenam Park, przy dużym skrzyżowaniu, po obu jego stronach. Są niewielkie ale funkcjonalne i bardzo przyjemnie jest przejść przez taki park, dla odmiany, a nie tylko wzdłuż hałaśliwej ulicy. 
Going the other direction from the hotel, about 10 min walk, there are 2 small parks Anjunggeun Park and Gyenam Park. They are both situated on each side of a very big junction. They are not huge but a real relief from the city looks and noise, and a nice spot to have a rest on the way back home. 

Największy park (z tych które do tej pory zwiedziłam) to Jungang Park znany tez jako Central Park. Tam znajduje się wielka muszla koncertowa i odbywają się tam różnego rodzaju imprezy. 
The biggest park is Jungang park, known also as Central Park. They held different types of events and concert there.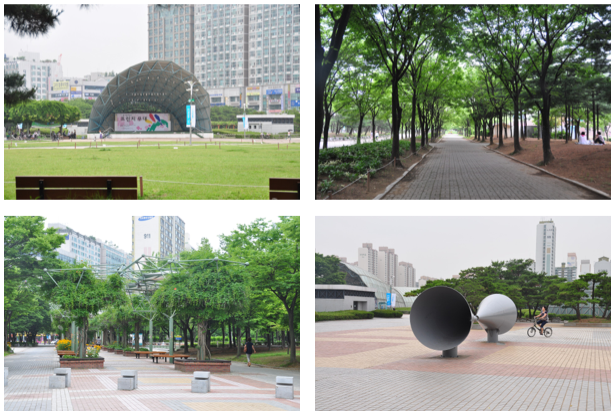 Mniejsze czy większe, wszystkie te parki mają sporo ze sobą wspólnego. We wszystkich jest naprawdę sporo miejsc do odpoczywania, jest bardzo zielono, dużo drzew i roślin, i wszystko bardzo ładnie rozplanowane i pomyślane. 
Small or big, all parks here have a lot in common. There are a lot of places to sit and rest, they are very green, there are a lot of trees and plants and they are really well designed. 

Jedna z ciekawostek - w każdym parku znajduje się sprzęt do ćwiczeń taki jak na siłowni. To wszystko dostępne jest dla każdego, za darmo, więc można poćwiczyć kiedy się chce i ile się chce. Często widzę jak babki czy faceci wracają do domu z zakupów czy też pracy, zatrzymują się i po prostu ćwiczą.
One of the coolest stuff I have never seen before is the exercise equipment that is available to anyone for free so come and exercise as much as you want. I often see people coming back from shopping or from work, and they just stop, have some exercises and move on. Why would you still want to pay for the gym? ;)

W każdym parku są toalety publiczne, boiska do gry w koszykówkę, siatkówkę, tenisa, itp, place zabaw dla dzieci, dystrybutory wody pitnej (zresztą nie tylko w parkach). W większości tych parków stoją pomniki jakichś Koreańskich facetów (chyba ważnych skoro postawili im pomniki).
In every park there are public toilets, basketball, tennis or volleyball courts, playgrounds, and water dispensers (not only in parks). In some of them there are monuments of some important Korean guys I don't know.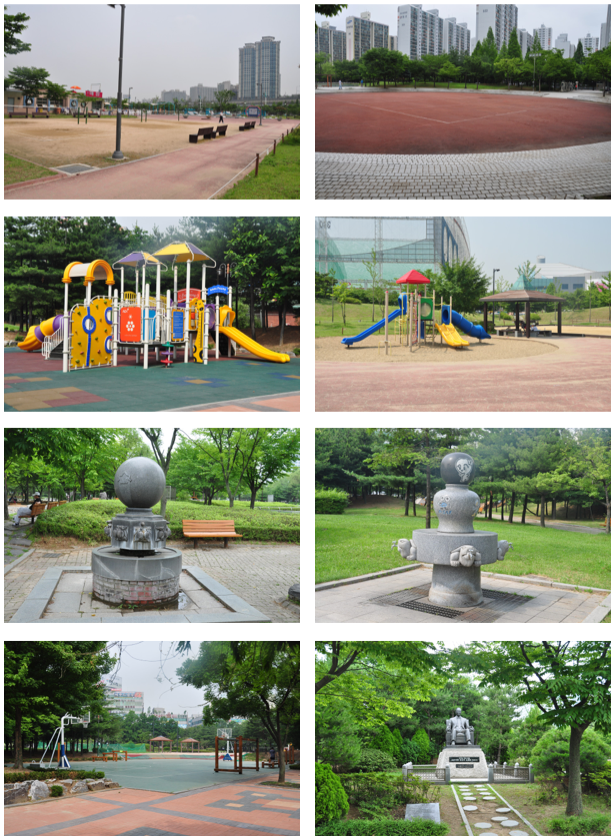 W parkach bywam najczęściej w tygodniu, w ciągu dnia, i widuję sporo ludzi, w różnym wieku. Odpoczywają, biegają, czytają, jeżdżą na rowerach, na rolkach, ćwiczą…  
I visit the parks mainly during the week. I can see a lot of people there, sitting, resting, reading, riding bikes, rollerskating, exercising.... Totally relaxed nation :)

Ciekawostką są tutaj Sky Parks czyli parki na dachu. Większość budynków tutaj właśnie na samym dachu ma taki Sky Park (głównie centra handlowe). My narazie zaliczyliśmy ten w centrum handlowym Hyundai Department Store i bardzo nam się podobało. Są tam drzewa, krzaki, jest trawka, stoliki, krzesła, i można sobie posiedzieć a wcale się nie ma wrażenia że się jest na 10 pietrze.
What I really like here are Sky Parks - parks on the roofs. Most of the buildings have some sort of green area on the roof (mainly shopping centres). So far we visited the one at the Hyundai Department Store and we really like it. There are trees and bushes and a lot of grass so it looks like a real park. There are some tables and chairs as well and you don't have an impression that you are on the 10th floor. 

Pomimo tego że jesteśmy w samym centrum miasta, z Mayką mamy gdzie chodzić na spacery :)
Even though we live in the city centre, there are a lot of places to go for walks with Maya :)