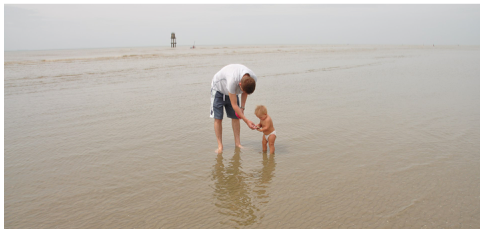 09/02/2011
WYCIECZKA NA PLAŻĘ / TRIP TO THE BEACH
Większość zwiedzania okolicznych Malezyjskich ciekawostek zostawiliśmy na przyjazd teściowej i szwagierki.
Ostatni weekend był długi z uwagi na Chiński Nowy Rok, więc Piotrek miał 2 dni wolnego. W jeden z wolnych dni (w czwartek - Chiński Nowy Rok) wszystkie cztery baby wyciągnęłyśmy go na plażę. 
Najbliższa plaża znajduje się na południu - Bagan Lalang Beach, Sepang. Dojazd do plaży zajmuje niecałe półtorej godziny od nas (po drodze mijamy lotnisko więc plaża jest jakieś niecałe pół godziny od lotniska). Wyjechaliśmy do południa a drogi były prawie puste i nie było korków więc zajechaliśmy w godzinę i 20 min. Na miejscu już tłumy ale zauważyłam że większość przyjechała po prostu się zrelaksować, niż pływać czy opalać się, całe rodzinki lub grupy znajomych, w ceniu lub pod namiotami, to tu to tam grill i zapachy smażonych kiełbasek i mięska. Dookoła znajduje się też dużo resteuracyjek i straganów z wszelkimi plażowymi gadżetami i zabawkami. 
Przy plaży znajduje się duży resort - domki na palach w wodzie, zbudowane w kształt palmy (widoczny z lotu ptaka).  
Most of the sightseeing around us, here in Malaysia, we decided to do during Piotr's mum and sister stay with us.
Last weekend was a long one because of the Chinese New Year, so Piotr had Thursday and Friday off. On Thursday (Chinese New Year) all four of us ladies managed to convince Piotr to take us to the beach. 
The nearest beach is in the south - Bagan Lalang Beach, Sepang. It is just under 1h30min drive from us (we pass the airport on the way so the beach is under 30 min drive from the airport). We left in the morning and the roads were empty so we got there in 1 hour and 20 min. There were quite a lot of people already but most of them were families and friends just relaxing and spending some quality time, not necessarily swimming or sunbathing. They were all sitting under the trees in the shade, or in the tents, some having a barbecue, with kids playing around. Around the beach there are also a few small restaurants and stalls and shops selling beach gadgets and toys.
By the beach there is a big resort - water bungalows built in the shape of a palm tree (bird's eye view).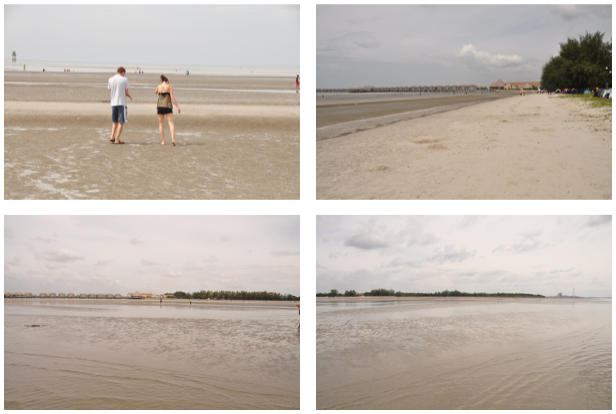 Ludzi było mnóstwo i plaża ogromna, piaszczysta tyle że... morza nie było bo był odpływ i to całkiem spory. Postanowiliśmy się więc sami przejśc w głąb i dojść do morza. Po drodze było sporo kałuż mniejszych i większych, małych jeziorek i było całkiem interesująco. Tyle że strasznie przygrzewało słońce i wszystkim nam opaliło kark. Maya już prawie sama chodzi więc szła z nami tylko że każde kilka kroków kończyło się na pupie, w błocie, co sprawiało jej niezłą frajdę. W kałużach po drodze staraliśmy się ja płukać ale po paru minutach i tak była cała ubłocona ;) 
There were pretty big crowds by the beach and the beach was big and sandy but... there was no sea due to the low tide. We decided to walk towards the sea and get to the waves at least. On the way there were a lot of ponds, small pools and puddles and it was an interesting walk. But it was baking hot and humid. Maya is almost walking on her own so she was walking with us but every few steps she ended on her bum, in the mud, and she really enjoyed it. I think she was doing it on purpose. We were washing her in the pools on the way but a few minutes later she ended up in the mud anyway ;)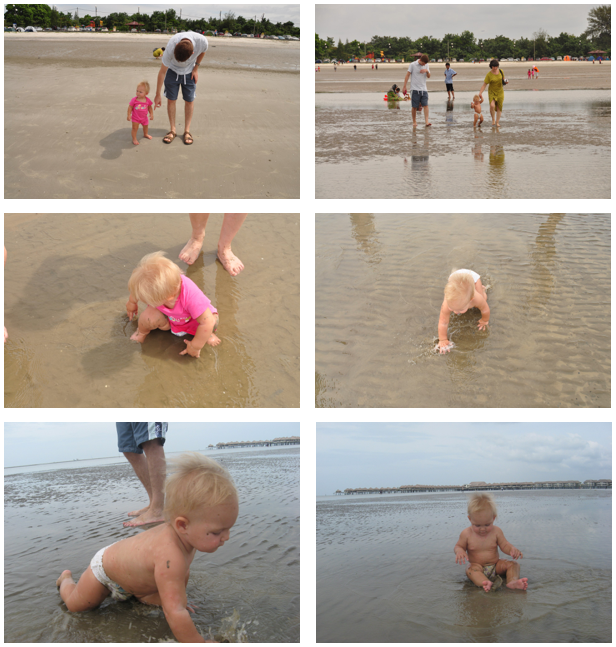 Dno morza jest piaszczysto błotniste, miejscami nawet bagniste więc bardzo miękko się spacerowało. Po drodze spotkaliśmy masę dziwacznych śimaków, i stada krabików które albo chowają się w muł albo uciekają. Jeszcze coniektóre budują świetny domek-kopczyk od dołu po okręgu po czym zamykają się w nim od góry. Do tego było sporo krabów które szukając jedzenia zjadają piach, co znajdą to zjedzą, a odpad wydalają w postaci kulki piaskowej, układają te kulki grzecznie w grupki. 
The sea bed was sandy and muddy, sometimes swampy so it was very soft to walk on. On the way we met a few weird snails and huge crowds of crabs who usually run and hide in the mud or run away. Some of them were building small house-heaps, starting from the bottom, going round and round and ending at the top with the crab closing itself in. There were also a lot of crabs  living in a hole. Looking for food, they eat sand, and whatever is inedible they throw it away as a sand ball, and the sand balls are arranged very neatly around their hole.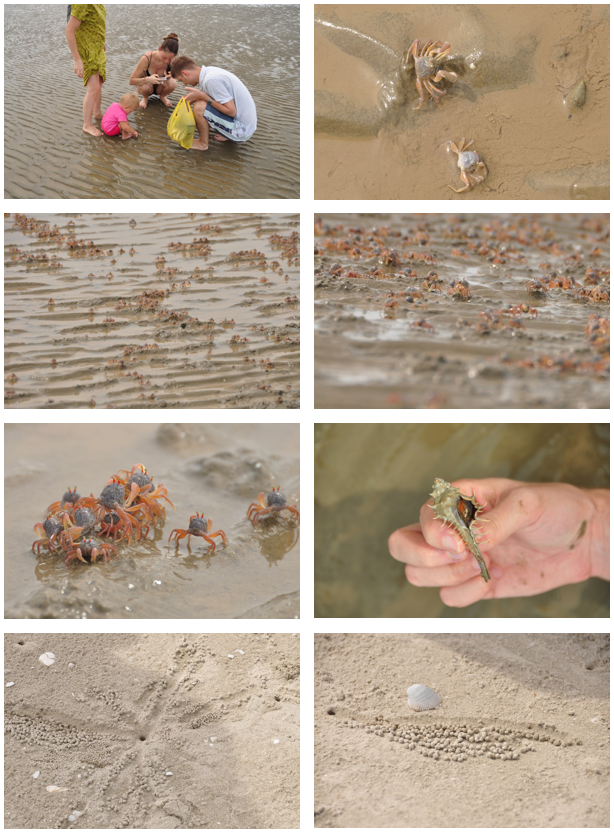 Wracając na suchy ląd szliśmy dosyć szybko z powodu dokuczającego słońca i wilgotności . Maya była cała ubłocona więc jak najszybciej spłukałam ją pod prysznicem. 
Rozłożyliśmy się na trochę przy placu zabaw w ceniu pod drzewem (po drugiej stronie ulicy od plaży). Na plaży nie było ani jednego wolnego zacienionego miejsca a o siedzeniu w słońcu nie było mowy. Piotrek pograł trochę na swoim iPadzie, a my bawiłyśmy się z Mayą. Maya trochę posocjalizowała się z sąsiadami - grupa młodych ludzi z gitarami. Bardzo była zainteresowana jak dwóch chłopaków grało na gitarach, wręcz osłupiona. Później ją trochę zabawiali i robili sobie z nią zdjęcia - jej blond włosy i niebieskie oczy nadal robią furrorę :) 
We came back pretty quickly as it was very humid and hot. Maya was covered in mud so I showered her straight away. 
We decided to sit for a bit in a shade under the tree by the playground, right across the road from the beach. The beach was already full with people and all shaded places were taken and sitting in the sun was out of the question. Piotr played on his iPad for a bit and we played with Maya for a while. She also made some new friends with the guys and girls sitting next to us. She was attentively listening to them playing the guitar. And later they also played with her, mainly taking photos - her blond hair and blue eyes are still very popular :)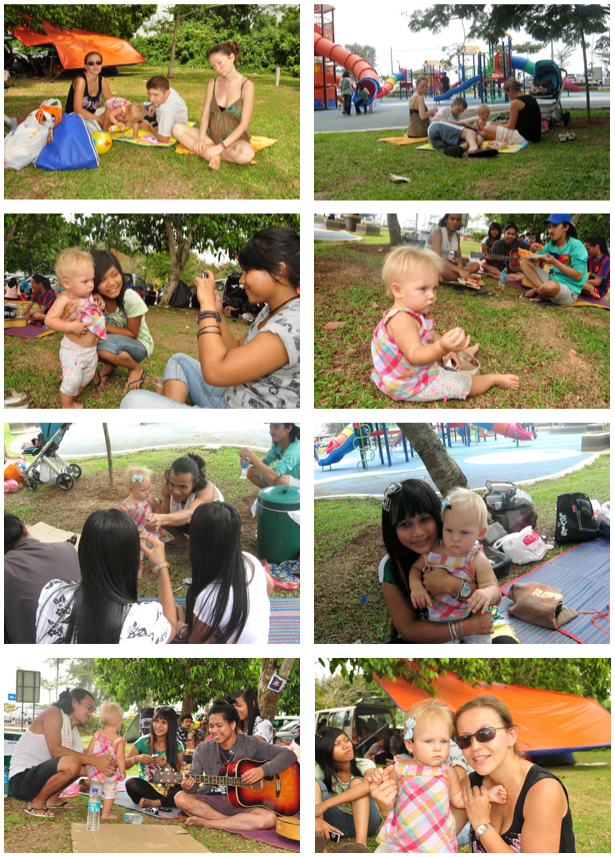 Przed odjazdem zaliczyliśmy jeszcze obiad w jednej z przyplażowych knajpek (4 lokalne dania, soki, kawa, woda i wszystko kosztowało nas jedyne 25 MYR (około 25 PLN).
Miejsce przyjemne i wcale nie dalej niż z naszego Chobham do najbliższej plaży w Brighton. Szkoda tylko, że wiatr nie wiał bo było naprawdę męcząco duszno i w taki dzień jedynie siedzenie w klimatyzacji (lub ewentualnie w sporym cieniu) wchodzi w grę.  
We ended our stay with having some lunch on one of the beach restaurants (we ordered 4 local dishes, some juice, coffee, water and everything cost just 25MYR (around £5). 
The place is nice and the same distance we have from Chobham to the nearest beach in Brighton. 
Shame there was no wind as it was a really humid day, the sort of day you only think about staying in your air conditioned place (or in a proper shade).