W ostatni weekend udało mi się wkońcu wyciągnąć Piotrka z domu. Zwiedziliśmy lokalny Robo Park - park robotów, dla miłośników robotów i nie tylko. Wszystko znajduje się na jednym poziomie i na wizytę trzeba przeznaczyc godzinę lub dłużej - w zależności jak bardzo się zaangażujemy w zabawy. Robo Park znajduje się przy Robotics Industrial Research Complex, jakieś 10 min taxi od naszego hotelu. Wracaliśmy piechotą i zajęło nam to około pół godziny.
Last weekend I managed to drag Piotr out of the hotel. We visited Robo Park here in Bucheon. Everything is on one level and the whole visit took about one hour, or it can be longer - depending on how much you engage in playing with robots. Robo Park is situated by Robotics Industrial Research Complex and it's about 10 min drive by taxi from our hotel. We came back on foot and it took as around half an hour. 

Cały 'park' to wystawa różnego rodzaju robotów: małe, duże, tańczące, skaczące, rysujące, i prawie wszystko 'na chodzie' więc można było przekonać się na własne oczy jak działają a niektórymi można było się nawet się pobawić. Najwięcej zwiedzających było dzieciaków, ale nam dorosłym jak najbardziej się podobało i polecamy :)
The whole place is just an exhibition of different sorts of robots: small, big, dancing robots, jumping robots, drawing robots, and everything working so you could see how they work, or even play them. Most of the visitors were kids, but we also liked it very much :)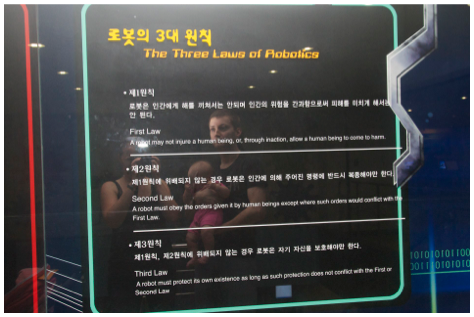 Trzy Prawa Robotów - Isaac Asimov:
Robot nie może skrzywdzić człowieka, ani przez zaniechanie działania dopuścić, aby człowiek doznał krzywdy.

Robot musi być posłuszny rozkazom człowieka, chyba że stoją one w sprzeczności z Pierwszym Prawem.

Robot musi chronić sam siebie, jeśli tylko nie stoi to w sprzeczności z Pierwszym lub Drugim Prawem.                                                                         
Isaac Asimov's Three Laws of Robotics: 
A robot may not injure a human being or, through inaction, allow a human being to come to harm.

A robot must obey any orders given to it by human beings, except where such orders would conflict with the First Law.

A robot must protect its own existence as long as such protection does not conflict with the First or Second Law.
Film z naszej wizyty w Robo Parku: / Here's a video from our visit at Robo Park:
 GALERIA ZDJĘĆ Z ROBO PARK / PHOTO GALERY FROM ROBO PARK >>>