28/06/2010
21go czerwca 2010, po 11 godzinach lotu liniami Korean Air, wylądowaliśmy całą trójcą w Korei Południowej z okazji kolejnego projektu Piotrka który właśnie tu ma miejce. Będziemy tu do 10 września (chyba że wojna wybuchnie wcześniej ;) 
On 21 June 2010, after 11 hour flight by Korean Air, we landed in South Korea thanks toi Piotr's next project that takes place here in Bucheon. We will stay here until 10 September (unless the war breaks out earlier ;)

Lot biznes klasą Korean Air przebiegł bezboleśnie. Przed wylotem mogliśmy siedzieć w 'poczekalni' dla posiadaczy biletów biznes klasy. W tejże poczekalni oprócz foteli, krzeseł stolików itp znajduje się bufet w ktorym można jeść i pić do woli - przekąski na zimno i na ciepło, owoce, słodkości, napoje różnorakie, plus alkohole do wyboru do koloru również. Generalnie to można się spić do upadłego ;) ale tym razem Piotrek zmiksował sobie Bloody Mary i na tym się skończyło. 
Lot trwał około 11 godzin, ale pomimo małej ilości spania, nie czułam się zmęczona. Siedzenia rozkładają się prawie na płasko, jedzenie podawane jest w porcelanie i z prawdziwymi stalowymi sztućcami (nie licząc plastikowego noża, tak jakby pałeczkami się nie dało zabić...) Dostaje się również menu i można sobie wybrać (z trzech pozycji) na co ma się ochotę do jedzenia. Oczywiście jak podczas każdego długodystansowego lotu jest sporo rozrywki do wyboru (filmy, programy, muzyka) z opcjami przewijania i przerywania kiedy się ma ochotę. Maya przespała większość lotu (w swoim 'łóżeczku' przymocowanym do ściany) i nawet kiedy nie spała to nie stęknęła ani razu. Widać latanie jej służy. Latanie z dzieckiem i do tego biznes klasą ma swoje spore plusy: wózek czekał na nas zaraz po wyjściu z samolotu, nie staliśmy w kolecje do kontroli paszportowej po wylądowaniu, tylko puścili nas kolejką dla niepełnosprawnych (bo chyba dlatego też że mieliśmy wózek).  Kolejny plus, bagaż już na nas czekał na taśmie więc nie było stania i czekania w nieskończoność. Wkońcu dane było mi się przekonać za co się płaci jak się lata biznes klasą.
The flight in the Korean Air Prestige Class went really smooth and without any disturbance.  Before we took off, we spent some time in the Business Class lounge. It is sort of a waiting room, but you can also eat and drink as much as you want - cold snacks, fruit, sweets, different types of drinks and alcohols as well. You can get drunk if you really want to ;) But this time Piotr only had one Bloody Mary. 
The flight was about 11 hours, and even though I hadn't slept much, I wasn't extremely tired. The seats recline almost flat, the food is served in a proper china with real steel cutlery (though the knife is plastic... but you could as well kill someone with chopsticks!)  
You get a menu and you have a choice of meals you can have. As you might expect, there was a lot of entertainment (films, documentaries, music, radio, games). Maya slept through most of the flight in her small bassinet fixed to the wall. Even when she didn't sleep, she behaved very well and didn't even wink. Looks like she likes flying. Flying with an infant and in a business class has a lot of advantages. Our pushchair was already waiting for us once we got off the plane, we didn't queue with the rest for the passport control because they told us to go via the exit for wheelchairs. The next good thing - our suitcases were already waiting for us at the belt so we didn't have to stand and wait forever until the baggage arrives. Now I can see what you pay for if you want to fly business class.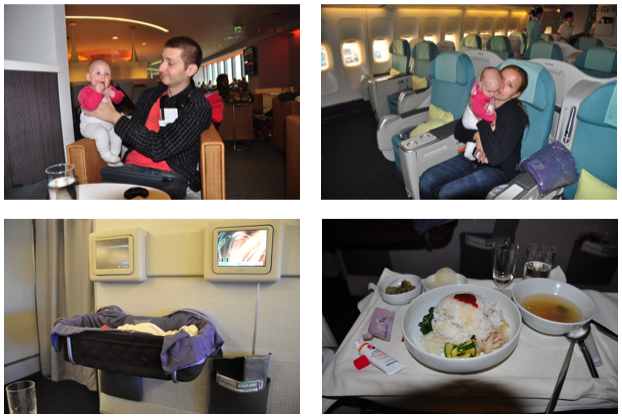 Z lotniska Seul - Incheon do Bucheon jechaliśmy taksówką około 40 minut. W planie było wynajęcie nam mieszkania na ten okres ale niestety na tak krótki Koreańczycy nie wynajmują plus żądają bardzo wysokiego depozytu. Tak więc spędzimy ten okres mieszkając w 5* hotelu Koryo. Dla mnie to plus bo przez prawie 3 miesiące nie muszę sprzątać ani gotować :) 
From Seoul-Incheon airport we took a taxi and we arrived in Bucheon about 40 minutes later. We were suppose to have a flat rented but it was not possible to do it for such a short period, plus they usually require a very high deposit. So we will spend the whole time in a 5* Koryo Hotel. For me it's a good thing because for almost 3 months I won't have to cook or clean :) 
Tutaj jest szczegółowy filmik naszych koreańskich warunków mieszkalnych: 
Here is a video showing our hotel: