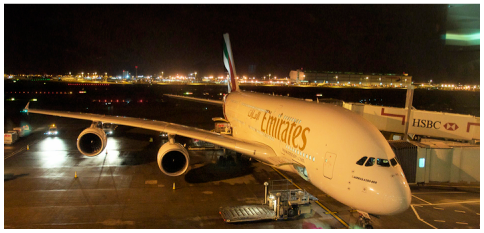 19/11/2010

Kolejny projekt Piotrka rzucił nas do Malezji. Wylądowaliśmy w Kuala Lumpur (KL) 1 listopada i będziemy tu do 11 lutego czyli dokładnie 103 dni. Z tego co się nasłuchaliśmy to tutaj ma być ciekawiej, lepiej, przyjemniej, (...) niż w Korei więc będziemy testować i przekonywać się na własnej skórze czy to prawda :)
Another Piotr's project turned out to be happening in Malaysia. We landed in Kuala Lumpur (KL) on 1st November and we will stay here until 11 February 2011 which is exactly 103 days. What we heard is that Malaysia is more interesting, better, much nicer, (...) than South Korea so we will be testing it and experiencing it ourselves and see whether it's true :) 
Nasz lot do Malezji, liniami Emirates, musiał się odbyć z przesiadką w Dubaju ale na szczęście całość przebiegła bez zakłóceń i niespodzianek. Cały nasz bagaż został odprawiony od razu do Malezji. Wystartowaliśmy w niedzielę wieczorem 31go października, a na miejscu byliśmy późnym wieczorem (lokalnego czasu) w poniedziałek 1go listopada. 
Z Londynu do Dubaju lecieliśmy największym jak dotychczas, dwupoziomowym Airbusem A380. Pierwsza klasa i biznes klasa zajmuje całe górne piętro, części dolnej nie widzieliśmy bo na pokład prowadzą dwa osobne rękawy, jeden na górny pokład, drugi na dolny. 
We travelled to Malaysia with Emirates airline, but with a stopover in Dubai, luckily whole journey was really smooth, on time and no surprises. Our luggage was checked in straight to KL. We took off on Sunday evening, 31 Oct and landed in KL on Monday evening (local time) 1st Nov. 
From London to Dubai we flew in the biggest (so far) double deck Airbus A380. First class and business class takes all of the top floor, while the bottom level is economy class. We didn't even see economy class because there are two separate walkways, one for the bottom level, the other for the top level. 

Siedzenia w biznes klasie rozkładają się na płasko, mają wbudowany mechanizm masujący, telewizorki sporej wielkości z różnego rodzaju rozrywką (filmy, radio, muzyka, gry, itp), obok siedzenia znajduje się też własny barek z napojami. Słuchawki samolotowe są duże i porządne i mają redukcję hałasu. Siedzenie po rozłożeniu na płasko do pozycji spania, nie pozostawia wiele miejsca na jakiekolwiek manewry więc podróżowanie z dzieckiem które raczkuje i zaczyna chodzić, niestety nie jest zbyt idealne, chociaż zawsze to lepsze niż klasa ekonomiczna piętro niżej ;) W menu jak zwykle dania do wyboru, a sztućce metalowe - łącznie z nożem o dziwo. Obsługa miła ale nie tak miła jak panie w Korean Air. Jakieś takie bardzo urzędowe...   
Maya więkoszść lotu wierciła się i nie spała zbyt wiele więc robiłam z nią czasem piesze wycieczki do pobliskiego baru ;) W barze z kanapami po obu stronach można się zrelaksować pijąc drinka w klimacie trochę naziemnym. 
Business class seats recline flat, there is a built in massage, the TVs are pretty big and there is lots of entertainment (movies, music, radio, games, etc). Next to your seat there is your own shelf with your own selection of soft drinks. You also get proper noise cancellation headphones so you can totally relax. The seats, once reclined flat, do not leave any space whatsoever if you fly with a baby on the move, the space is very limited. But, business class is always better than economy class one level below ;) In the menu there are always selections of main dishes and the cutlery is steel - even knives, to our surprise. The crew is nice but not as nice as Korean Air crew. 
Maya most of the flight decided to be on the move and refused to sleep most of the time so I took her for walks from time to time to the nearest bar ;) The bar looks a bit like a bar on the ground, with small sofas where you can relax somewhere else than your seat.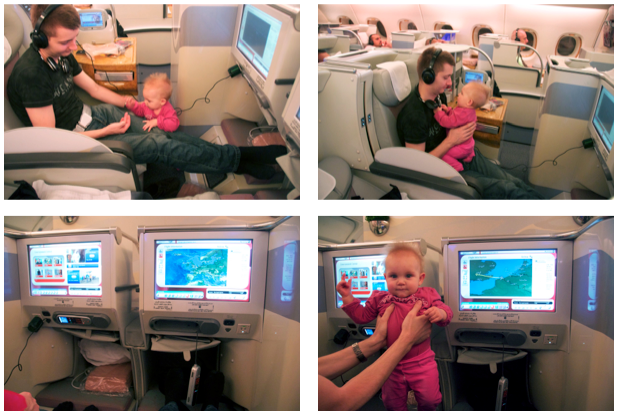 Airbus A380 ma zamonotowane 3 kamery, które pozwalają śledzić lot od zewnątrz - na podwoziu (widok w dół), na dziobie (widok w przód) i na ogonie (widok w przód łącznie z całym samolotem). Najciekawiej wyglądał widok z kamery na ogonie, jak dolatywaliśmy do Dubaju kiedy to było widać światło wschodzącego słońca na horyzoncie. 
W Dubaju wylądowaliśmy po około 7 godzinach lotu. Mieliśmy czas na zjedzenie śniadania, i posurfowaliśmy trochę po sieci. Jakieś 3 godziny później lecieliśmy już dalej, tym razem Boeingiem B777. Siedzenia w biznes klasie miał standardowe biznesowe więc nawet po rozłożeniu do spania, było miejsca dość na 'manewry' z dzieckiem. Maya ten lot przespała prawie w całości, obudziła się na godzinę przed lądowaniem. Ja w międzyczasie obejżałam Robin Hooda z Rusellem Crowe ale okazał się stratą czasu jak dla mnie. 
B777 też miał dwie kamery (podwozie i dziób), więc również start, lot i lądowanie można było śledzić, ale lądowaliśmy już po zmroku więc niewiele było widać, nie licząc świateł lontniska i pasa startowego. 
 Airbus A380 has got 3 live view cameras that let you watch the flight from the outside - one camera is fixed to the undercarriage (a view down), one on the front of the plane (view to the front) and one on the tail (view to the front from above, on the whole plane). The most interesting view was from the tail camera, when we were slowly descending over Dubai, and we could see the sunrise on the horizon.  
We landed in Dubai after around 7 hours of flight. We had enough time to have breakfast and surf the web. About 3 hours later we continued our journey to in Boeing B777. The business class seats in this one were more standard and even after reclining the seat flat, there was some space to move around with the baby. Maya actually slept through the whole flight, just woke up one hour before landing. I watched Robin Hood with Russell Crowe but turned out to be a waste of time to me. 
B777 also had two cameras (undercarriage and front) so we could also watch live the take off, flight and landing, but we landed after dark so there was not much to see, except for the airport and runway lights.  

Film z naszego lotu na trasie Londyn - Dubaj. / A video from our flight from London to Dubai:
Na lotnisku w Kuala Lumpur czekała na nas już taksówka a po przyjeździe na miejsce czekała na nas Vivian, główna księgowa Vesuvius'a (firma Piotrka). Czekała razem ze swoimi kuzynkami czy koleżankami więc w 4 pomogły nam się wtachać na górę z sześcioma bagażami i wózkiem. Bagaże i wózek zostały odprawione z Londynu bezpośrednio do KL więc w Dubaju nie musieliśmy się o nic martwić. A kilogramowo mieliśmy limit 40kg na głowę plus 10kg na dziecko czyli razem 90kg :) Spokojnie jakieś 15kg zakupów możemy przywieźć z powrotem :) 
At Kuala Lumpur International Airport the taxi was already waiting for us and after arrival to our accommodation, we were greeted by Vivian, the accountant from Vesuvius (Piotr's company). She was waiting with her cousins, or friends, so they helped us with our 6 pieces of luggage and a pushchair. The whole baggage and a pushchair were checked-in in London directly to KL so in Dubai we had nothing to worry about. And our luggage limit was 40kg per person plus 10 kg for the baby, so 90kg all together :) We still have space for about 15kg of shopping to take with us back home :)