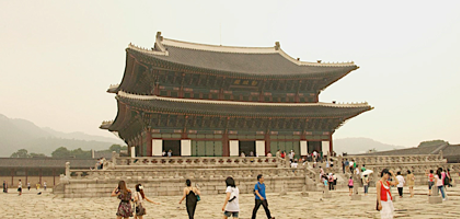 08/08/2010
W poprzedni weekend (31 lipca) wybraliśmy się na zwiedzanie Gyeongbok Palace w Seulu. Ze względu na panującą duchotę w ten dzień (niebo szczelnie zakryte chmurami + 31 stopni w powietrzu = sauna!) nie chciało nam się zwiedzać dokładnie wszystkch budynków, więc zaliczyliśmy to co najciekawsze. Cały kompleks naprawdę robi wrażenie a Zamek Królewski w Warszawie to mały domek w porównaniu ;)
Pałac Gyeongbok jest jednym z pięciu królewskich pałaców zbudowanych jako pierwszy podczas rządów Dynastii Joseon w XIV wieku, a zarazem największy. Dokładniej to jest to kompleks pałaców, pawilonów, budynków i ogrodów na zobaczenie dokładnie wszystkich trzeba poświęcić cały dzień. Podzielić go można na 3 części - zewnętrzne budynki i tereny pełniły funkcje rządowe, wewnętrzne budynki służyły jako część mieszkalna, natomiast tylne ogrody wykorzystywane były jako tereny do odpoczywania. Całość jest bardzo dokładnie zaplanowana biorąc pod uwagę lokalizację, kształt i symetrię. Jest to teren płaski, z rzeką od strony południowej, a z pozostałych trzech stron otoczony górami. Bramy w otaczającym murze dokładnie skierowane są na północ, południe, wschód i zachód. Pałac zrekonstruowany został w XIX wieku i zniszczony przez Japończyków we wczesnym XX wieku, do dziś jest powoli odrestaurowywany. Wstęp na teren pałacu kosztuje jedynie 3000 WON (około 7.80 PLN)
During the previous weekend (31 Jul) we went to Seoul to see Gyeongbok Palace. It was really humid that day (the sky tightly covered with clouds + 31 degrees in the air = make a perfect sauna!) so it really discouraged us from visiting everything in detail. We focused on the most important and most interesting parts of the whole palace. The whole palace complex is really impressive and the Royal Palace in Warsaw is a little house compared to Gyeongbok Palace :)
Gyeongbok Palace is first and one of five royal palaces built during Joseon Dynasty in 14 century, and it is also the biggest of them all. It is a complex of palaces, pavilions, buildings and gardens that you would need all day to see every single one. It can be divided into 3 areas - the outer court for governing, the inner court for residing and rear gardens for relaxing. The site and layout were meticulously planned. It's a plain with a stream immediately to the south and mountains around the three other sides. The gates in the walls directly face north, south, east and west. The palace was reconstructed in 19th century and destroyed by Japanese government in early 20th century, it is being slowly renovated up until today. The entry to the palace complex is only 3000 WON (about £1.60).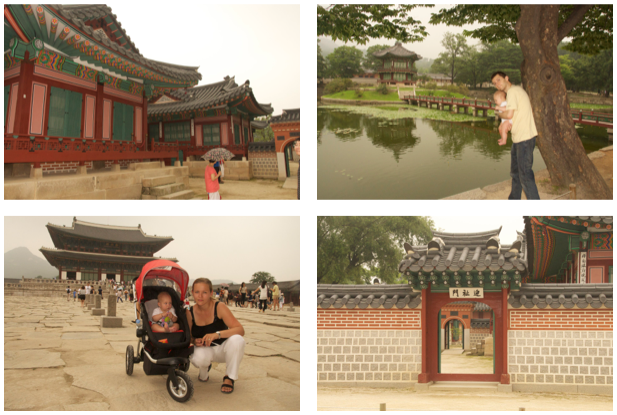 Na terenie pałacu znajduje się też Narodowe Muzeum Tradycji Koreańskich, zbudowane podczas rządow Dynastii Joseon (14-20 wiek). Tutaj można zobaczyć różne ciekawostki dotyczące codziennego życia Koreańskiego z tamtych czasów. W muzeum znajduje się wystawa poświęcona historii Koreańskiego narodu, stylowi zycia,  łącznie z tym jak wyglądała nauka i obchodzono wesela czy śmierć bliskich. Wstęp do muzeum jest darmowy. Mnie najbardziej podobały się budynki muzeum z zewnątrz. 
On the grounds of Gyeongbok Palace, there is also The National Folk Musuem of Korea, built during the Joseon period (14th-20th century). Here you can learn how Korean commoners and nobles lived in traditional times, including details of learning at school, or celebrating marriages. All the exibitions were inside but there were a few things to see outside as well. The entry to the museum is free. The outside buildings  of the museum were the most impressive.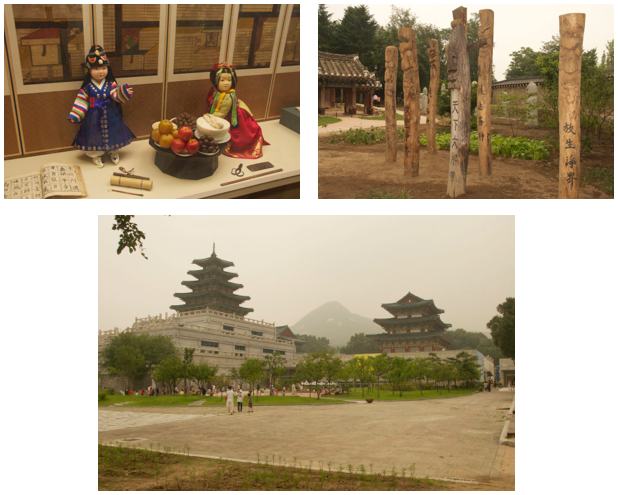 Film z wizyty w Pałacu / Here's a video from our visit at the Palace: