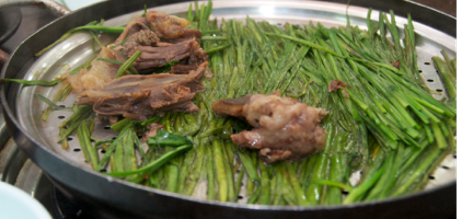 01/08/2010
Ostatnio KwonHo przetestowal czy rzeczywiście nauczyłam się czytać po Koreańsku. No i okazalo sie, że test zdałam. Wyraz który dał mi do przeczytania to była nazwa tego co mieliśmy jeść tamtego wieczoru - o czym ja się dowiedziałam dopiero na miejscu - pies. Wiem, że mięso z psa jest popularne w Chinach, ale Piotrek dowiedział się że w Korei też są miejsca w których je serwują więc namówił KwonHo żeby nas w takie miejsce zabrał (bez mojej wiedzy). 
Recently KwonHo tested if I learnt reading in Korean. And it turned out I passed the test. The word he gave me to read was the name of the thing we were to eat that evening - and I found out about it once we got there - dog meat. I know it is popular in China, but Piotr found out that they serve it in Korea as well so he asked KwonHo to take us to one of those places (well, without me asking).

Tradycyjnie siedzieliśmy po koreańsku na ziemi przy niskim stole, z koreańskimi przystawkami i jedząc koreańskimi metalowymi pałeczkami. Mięso było juz gotowe tylko kelnerka wrzuciła je na palnik (nad parę) żeby było ciepłe. Ja zjadłam kilka małych kawałeczków ale mi nie smakowało. Jest trochę gumowe i nic specjalnego w smaku, więc spasowałam i zostałam przy kimchi i ryżu. Może psychicznie dlatego że wiedziałam że to pies, nie chciałam za bardzo jeść i nie za bardzo mi podchodziło. 
We had this dinner in a traditional Korean style, sitting on the floor, with Korean side dishes and using Korean metal chopsticks. The meat was already cooked; the waitress only threw it on the steam plate so that it was warm for us to eat. I had few small pieces but didn't like it very much. It is a bit gummy and doesn't taste especially good, so I decied to eat some rice and kimchi instead. Possibly it was already in my head that I knew the meat was a dog, and I didn't want to eat it.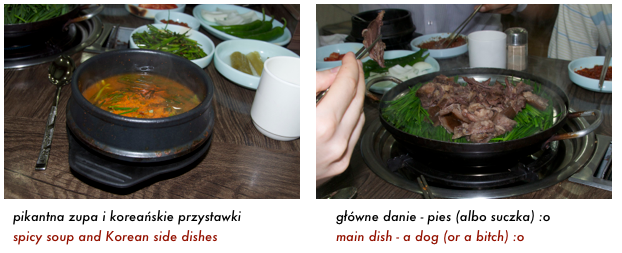 Obok naszego stolika siedziało trzech sympatycznych Koreańczyków, zagadali kto my jesteśmy, gdzie pracujemy, skąd itp. A na koniec zrobiliśmy im parę fotek które dzień później wysłałam im emailem. 
There were 3 nice Korean guys sitting next to our table. They chatted us up and asked where we are from, etc. We ended up taking their photos and emailing them the next day. 

Knajpa byla pełna i dominowała płeć męska. Maykę dopadła po raz kolejny jedna Koreanka i jak zwykle sie nią zachwycała od góry do dołu :)
The whole restaurant was full, mainly of men. Maya was 'kidnapped' by one Korean lady and she really admired Maya and didn't want to let her go :)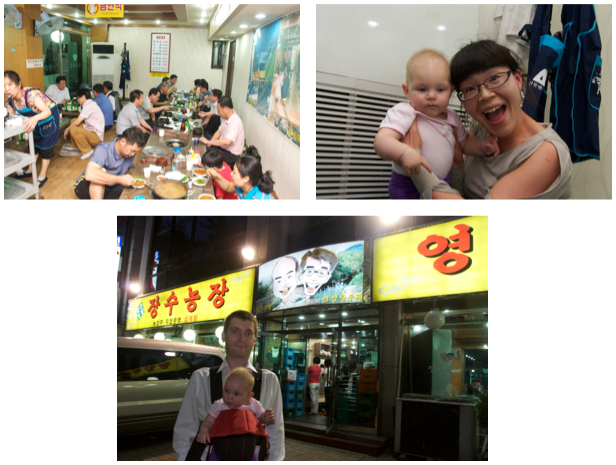 Piotrek stwierdził że się najadł się i że już może skreślić ze swojej listy to, czego musi spróbować, zanim pójdzie do piachu ;)
Piotr ate quite a lot of the dog meat and said that he could cross this off his list of things to do before he dies :)