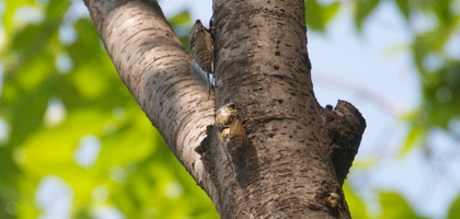 22/08/2010
Najbardziej popularne a zarazem najbardziej denerwujące są tutaj cykady. Na początku pobytu albo nie zwróciliśmy uwagi albo po prostu pojawiły się dopiero jakoś w lipcu, bo dopiero wtedy zaczęliśmy słyszeć dziwny, denerwujący dźwięk wśród drzew. Okazało się że to cykady. Cykady są bardzo brzydkie i wyglądają jak wielkie muchy. 
In Korea, the most popular, and annoying at the same time, are cicadas. Initially we either didn't pay attention, or they just appeared some time in July, as only then we started hearing this strange, electric-like sound, among the trees. We found out that the sound is made by cicadas. Cicadas are really ugly and look like big flies.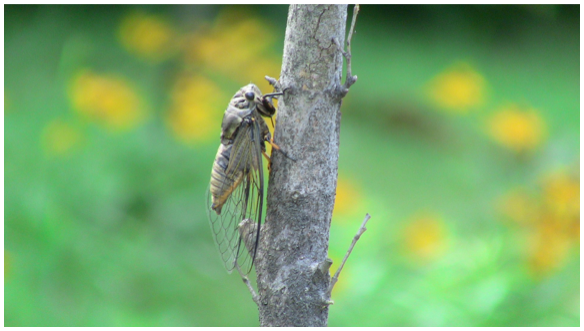 Dźwięk wydają tylko samice poprzez tylną część ciała. Rozmiarowo mają około 5 cm, szeroko rozstawione oczy, duże, długie i pól przezroczyste skrzydła. Jak na owady żyją wyjątkowo długo bo 13 lub 17 lat (w zależności od gatunku). Te które tutaj występują nie mam pojęcia do którego gatunku należą. Przez większość swojego życia mieszkają pod ziemią. Pod koniec wychodzą na powierzchnię. Po przepoczwarzeniu żyją około 30 dni i jest to okres poświęcony na rozmnażanie się. Po zakończeniu tego okresu, słabną i umierają.
Dźwięk który wydają przychodzi i odchodzi, działa na zasadzie domina - jedna zacznie, a potem następne się dołączają do koncertu i ze znośnego bzyczenia robi się czasem nie do zniesienia dla ucha, glośny wirujący dźwięk.
Troche ciężko je wypatrzeć bo najczęściej siedzą na drzewach i zlewają się kolorystycznie z korą drzew. 
Podczas wizyty w 63 Building udało nam się sfotografować 'stado' siedzących cykad na drzewach przed wejściem do budynku - tam było naprawdę głośno i żeby coś powiedzieć to trzeba było je przekrzykiwać. Mnie głowa aż rozbolała od tego hałasu. 
The sound is made by females only, using 'soundmakers' in their abdomen. In size, they are about 5 cm, they have very big eyes, and big, long semi transparent wings. They live exceptionally long as insects, 13 or 17 years (depending on the species). I have no idea which ones are those we can see here. They live most of their lives under ground. Towards the end, they emerge to the surface and after shedding their skin, they live for around 30 days - period devoted to reproducing. 
The sound they make sort of comes and goes, it works as a domino effect - one cicada starts 'singing' then the next join it and what was a bearable buzzing sound, becomes a very often unbearable buzzing times ten.
They are a bit difficult to spot as they sit mainly in the trees and they blend with the tree bark as their colours are similar.  
During our visit at 63 Building we saw masses of cicadas in the trees in front of the entrance to the building. They were also making such a noise that we had to speak very loudly in order to hear each other. And the noise was giving me a headache as well.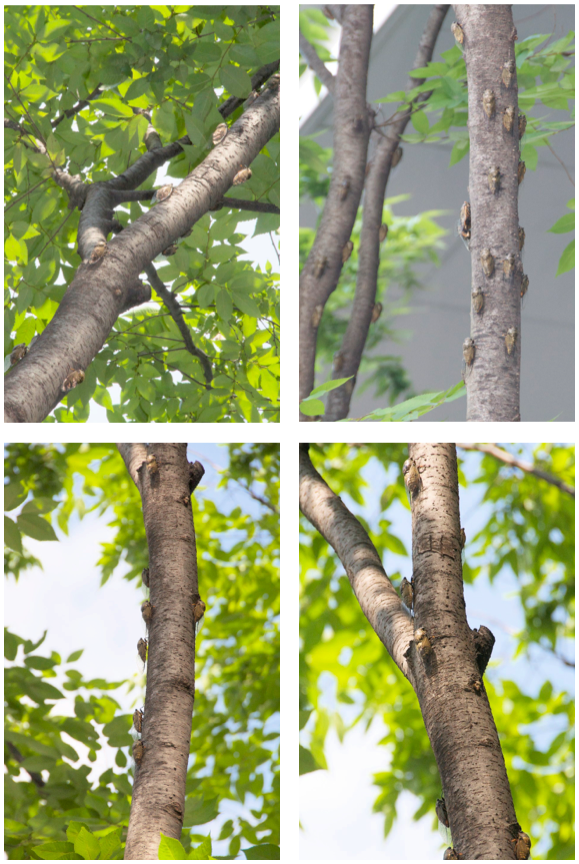 Z innych owadów to jest tutaj sporo ważek, głównie w parkach, ale narazie nie udało mi się sfotografować bo poruszają się dosyć szybko i chaotycznie.  Najciekawszy owad jakiego spotkalismy to ten. Nawet ma palce!:
Other insects we see quite often are dragonflies, mainly in the parks, but they fly so chaotically  and quickly that I haven't managed to take any photos yet. This guy is one of the most interesting insects we have ever seen. It's even got fingers/toes!: