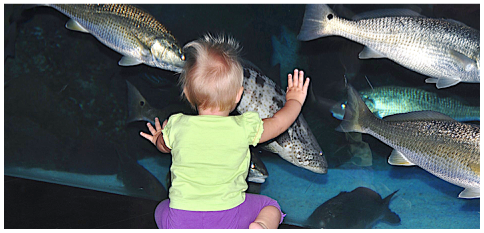 22/01/2011
AQUARIA (OCEANARIUM) W KUALA LUMPUR / AQUARIA IN KUALA LUMPUR
W poprzedni piątek (14 stycznia) przyleciały do nas w odwiedziny mama i siostra Piotrka, Hania. W sobotę daliśmy im trochę odespać zmęczenie spowodowane zmianą czasu. 
W niedzielę zabraliśmy się wszyscy i pojechaliśmy do oceanarium w centrum Kuala Lumpur - Aquaria KLCC. Oceanarium znajduje się przy wieżach Petronas Towers, zajmuje 60,000 stóp powierzchni (ponad 5500m2) i rozmieszczone jest na dwóch poziomach. Znajduje się tutaj bogata kolekcja zwierząt, owadów i ryb z całego świata. 
Last Friday (14th Jan) our first and only guests arrived in Malaysia - Piotr's mum and his sister, Hania. On Saturday we left them alone to have some rest and sleep off the jet lag. 
On Sunday we went all together to visit Aquaria KLCC in the centre of Kuala Lumpur. It is situated right by the Petronas Towers, covering 60,000 feet on 2 levels. There is a very big collection of animals, insects and water creatures from around the world.  

Oprócz ryb, płazów czy innych wodnych i nie-wodnych stworzeń, widzieliśmy też ciekawą kolekcję motyli i chrabąszczy, a do tego sporo koników morskich i chyba jeden z najdłuższych tuneli podwodnych skąd podziwaliśmy przepływające nad głową wielkie rekiny czy płaszczki. 
Apart from fish or reptiles and other non-water creatures, we also saw a nice collection of butterflies and beetles, plus a lot of sea horses and one of the longest underwater tunnels we have seen so far, where we admired sharks, flat fish and other fish floating over our heads.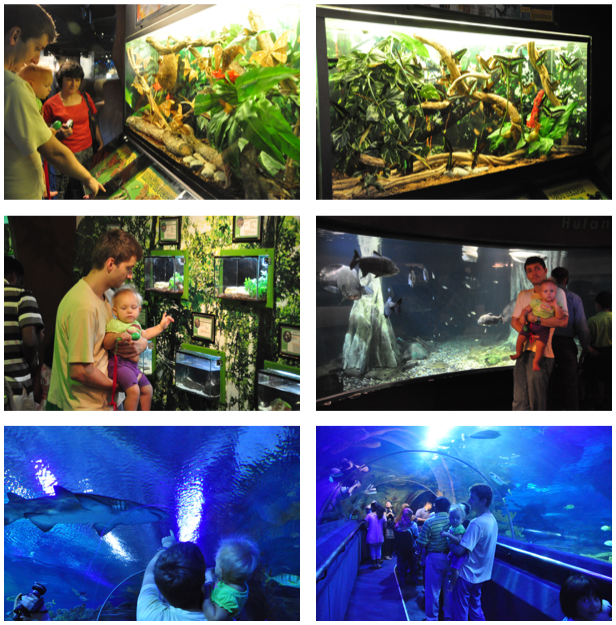 Z atrakcji dla turystów była też opcja ubrania się w zestaw płetwonurka i zanurkowania w największym zbiorniku aby popływać wśród rekinów czy płaszczek. Całość udało nam się przejść w niecałe dwie godziny i miejsce jest naprawdę ciekawe i godne polecenia chociaż nie najwiękze i nie ma tak bogatej obsady jak na przykład Londyńskie Akwarium. Z drugiejs trony można tam spotkać trochę interesujących osobników których nie widywaliśmy do tej pory jak na przykład sczur wodny czy duża kolekcja przeróżnych koników morskich. W Aquaria niestety obowiązywał zakaz robienia zdjęć z lampą więc zdjęcia nie są najlepsze. 
As a tourist attraction there was also an option of dressing up in the dive gear and dive in the biggest tank and swim with the sharks and others. The whole place we managed to see in just under 2 hours. The place is really interesting and it is really worth seeing, but it is not the biggest and it hasn't got so many species of creatures and fish as for example London Aquarium. But there were some interesting individuals we haven't seen before like water rat, or masses of different types of seahorses. In Aquaria flash photography was not allowed so the photos are not of the best quality.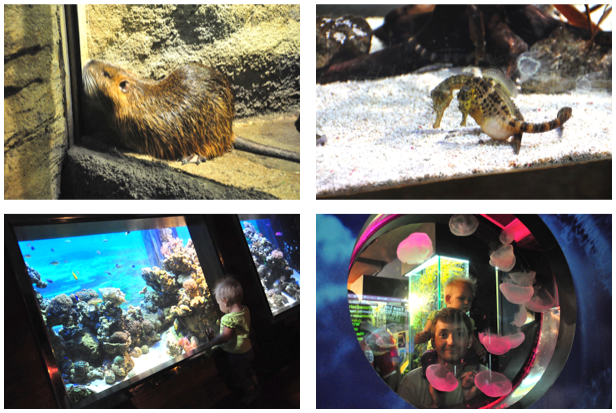 Po wizycie w Aquaria, przespacerowaliśmy się przez KLCC Park, Maya zaliczyła kilka huśtawek, a mama z Hanią miały okazję po raz pierwszy popodziwiać wieże Petronas Towers. Dzień był raczej pochmurny więc spokojnie mogliśmy spacerować nie martwiąc się piękącym słońcem i było bardzo przyjemnie. 
After visiting Aquaria we had a walk through KLCC Park, Maya had some fun on the swings and mum-in-law with sister-in-law had a chance to admire Petronas Towers for the first time. The day was rather cloudy so we didn't have to worry about being burnt by the sun and we had a really nice time.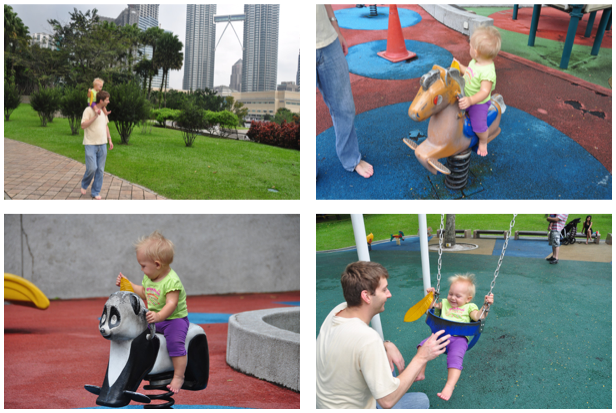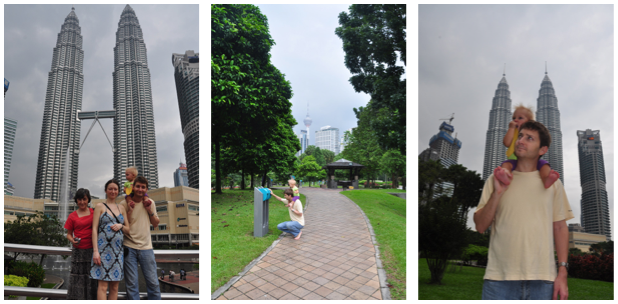 Zwiedzania dzień pierwszy skończył się wczesnym popołudniem jako że Piotrek śpieszył się na turniej Magic the Gathering (kiedyś napiszę osobny post na ten temat) a my w cztery baby spędziliśmy resztę dnia na placu zabaw pod blokiem. 
The visiting was over early afternoon because Piotr was in a hurry to come back on time and play Magic the Gathering tournament (I will write about it sooner or later in more detail). Four of us ladies we spent the rest of the day in the playground by our block.