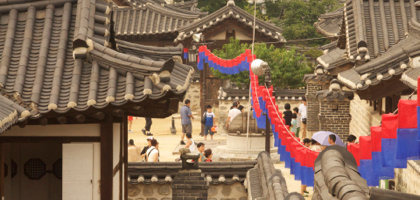 09/08/2010
Weekendowego zwiedzania ciąg dalszy. Pomimo nadal dokuczającej duchoty, ale po odpoczynku przy lunchu w klimatyzowanym pomieszczeniu, w ten sam dzień w który zwiedzaliśmy Pałac Gyeongbok, postanowliśmy też zobaczyc tradycjną Koreańską wioskę - Namsangol Traditional Korean Village. 
Our weekend sightseeing continues. On the same day we visited Gyeongbok Palace, in spite of the sauna-like humidity, after having a rest and lunch in an air-conditioning place, we decided to visit Namsangol Traditional Korean Village. 

Wstęp do wioski jest darmowy. Wioska znajduje się niedaleko parku Namsan, z którego można się odważyć i zwiedzić slynną wieżę w Seulu - podobno najpierw trzeba się wspiąć na wzgórze, a potem trzeba stać w kolejce żeby wjechać na szczyt wieży - nie planujemy :)
Wioska Namsangol składa się z tradycyjnych koreańskich domów gdzie można zobaczyć jak kiedyś żyli i funkcjonowali Koreańczycy. Wioska jest bardzo ładna a szczególnie podobają mi się drobne szczegóły budynków, przy dachach czy na ścianach. 
The entry to the village is free. The village is situated near Namsan Park from where you can dare and see the Seoul Tower - apparently you need to clim the mountain first and then queue to get the lift to the top - this is not something we are planning to do :) 
The village is a collection of traditional Korean houses where you can see how Koreans lived in the past. They are all really impressive and I especially like attention to detail seen in every building. 

Maya jak zwykle robiła furrorę i już się przyzwyczailiśmy do faktu, że każdy ją chce brać na ręce i podziwiać z bliska :)
Maya was popular, as always, and we already got used to the fact that everyone wants to pick her up and admire her from a close-up :)

Przy wejściu do wioski znajduje się scena na której odbywają się czasem pokazy tradycyjnych tańców czy przedstawień. Posadziliśmy Maykę na środku sceny ale śpiewać nie chciała, za to mikrofon w buzi się zmieścił :) 
At the main entrance to the village there is a stage where they sometimes do dancing shows or performances. We sat Maya in the middle of the stage by a microphone and she didn't want to sing, but she managed to fit the mic into her mouth ;)

Krótki film z wizyty w wiosce / A short video from our visit at the village: