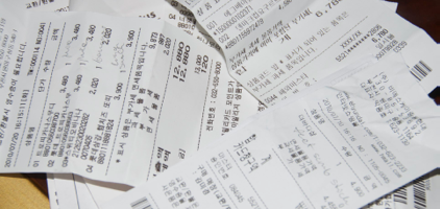 20/07/2010
Nigdzie wcześniej nie widziałam takiej sporej liczby centrów handlowych i sklepów na km2. W promieniu 15 min piechotą od naszego hotelu są 4 centra handlowe o których wiem - SaveZone, NewCore, The Mall, Hyundai Department Store (tak tak, Hyundai). Do tego dochodzi Home plus i E-Mart - supermarkety ale wybor w ciuchach wcale nie mniejszy. Co ciekawe w ciągu tygodnia w tych centrach jest więcej ludzi niż w centrach handlowych w UK w czasie weekendu. W weekend to dopiero są tłumy i np. w Homeplus trzeba się czasem nieźle przeciskać między wózkami.  
I have never seen before so many shopping centres within a square km. Within 15 min walk from our hotel there are 4 shopping centres (that I know of) - SaveZone, NewCore, The Mall and Hyundai Department Store (!). There are also Home plus (Tesco) and E-Mart - supermarkets with a big choice of not only food but clothes, toys and homeware. What is really interesting there are quite a lot of people doing shopping on a weekday during the day, a lot more than during the weekend in UK shopping centres. Here Home plus is pretty packed during the weekend and sometimes you need to elbow through to the checkouts.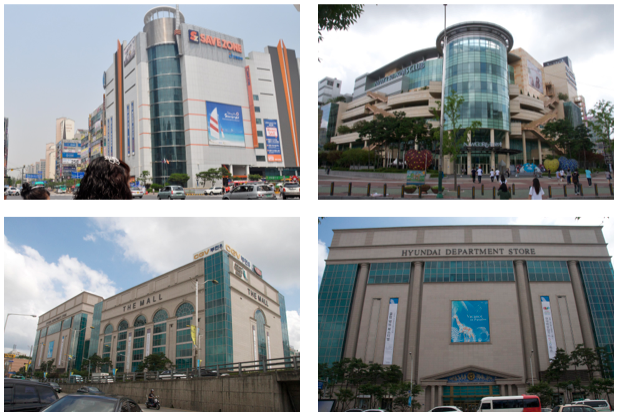 We wszystkich tych centrach, dla wszystkich niezależnie od wieku, są głównie ciuchy, ale też buty, torebki, czasem jakieś artykuły gospodarstwa domowego, elektronika; w każdym są restauracje, a niektóre na dachach mają tzw. Sky Park czyli park na dachu gdzie można usiąść, odpocząć, napić się kawki itp 
In all those shopping centres you can find all types of clothes for everyone, but also bags, shoes, homeware, electronics; there are restaurants and coffee shops as well and some of them have Sky Parks at the top where you can sit and relax after doing shopping. 

Główne zakupy robimy w Home plus (tutejszy odpowiednik Tesco). Główne to znaczy soki, jogurty, owoce, pieluchy, przekąski. Jabłka i ser są dosyć drogie tutaj - 7000 WON za 5-6 jabłek to około 18 PLN. W hotelu jak można się domyślić kuchni nie mamy więc wieczorami jadamy 'na mieście'. E-Mart to koreańska sieć supermarketów i jeden taki znajduje się w miarę niedaleko jakby nam się Tesco znudziło. W obu mozna kupic wszystko lacznie z produktami dla niemowlat, jedzenie, zabawki, itp, itd  
Our main shopping we usually do at Home plus. Main shopping means juice, yoghurts, fruit, nappies, snacks. Apples are pretty expensive here - around 7,000 WON for 5-6 big apples - about £4.5, and they are not so tasty anyway. In our hotel as you probably figured it out, we haven't got a kitchen so we eat out in the evenings. E-Mart is a korean supermarket and if we get tired of Home plus, we can always do shopping there as it is relatively close as well. In both we can buy anything including baby clothes, food, toys, etc. 

Po drodze z hotelu do Home plus są 3 sklepy z artykułami dla dzieci od smoczków, po wózki i łóżeczka. W jednym z nich kupiliśmy niebieski 'tron' dla Mayki i wanienkę bo nasza hotelowa łazienka ma tylko prysznic. Za wanienkę zapłaciliśmy 6500 WON (około 17 PLN) a za 'tron' 43000 WON (razem ze stoliczkiem) to około 112 PLN. Parę dni temu kupiłam jej pierwszą w życiu piłeczkę za 3500 WON (około 9 PLN). 
On the way to Home plus there are 3 shops with baby products, from dummies, to pushchairs and cots. In one of them we bought the blue Bumbo seat for Maya and a bath because our hotel bathroom has only got shower. The bath cost 6500 WON (about £4) and the seat cost 43000 WON with a tray so it's about £25. A few days ago I bought her a small ball that cost 3500 WON (around £2).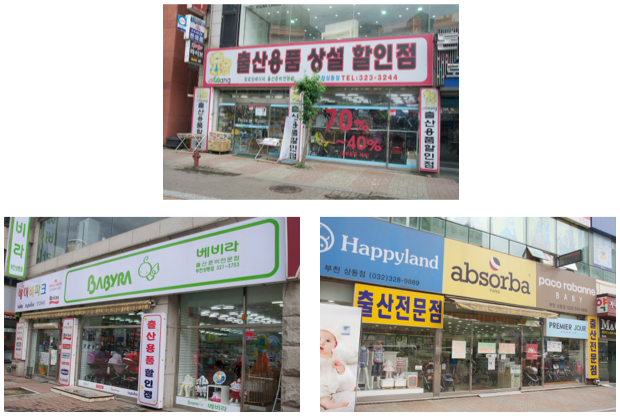 Walutą tutaj jest Koreański WON.                        Currency here is a Korean WON (KRW).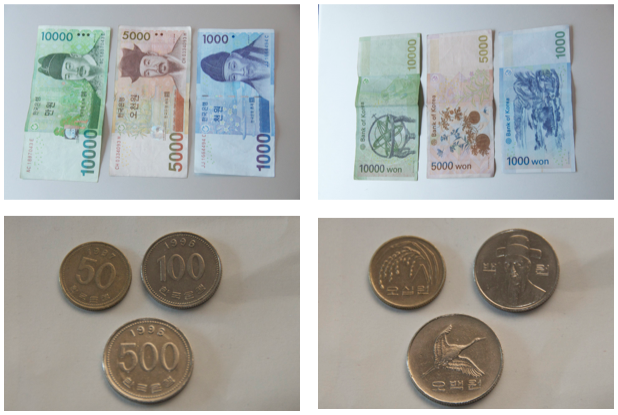 Dla nas, po przeliczeniu, cenowo jest podobnie, bądź trochę taniej, zależy co i gdzie kupujemy. Vat 10% robi swoje. Ceny ciuchów niewiele się różnią od tych w UK więc specjalnie nie szalejemy. Ja czasem coś kupie jak wisi na wyprzedaży. Pieluchy są odrobinę droższe i wypróbowałam już 4 rodzaje i te które w testach wypadły najlepiej to... LG. Tak tak, pieluchy LG. Nie wiedziałam, że LG prowadzi równie biznes pieluchowy ;) Podobnie jak nie wiedziałam, że Hyundai ma centra handlowe, a Samsung produkuje samochody ;) 
For us if we convert the currency, prices here are similar, sometimes more expensive, sometimes cheaper, depending on what and where we buy. VAT is 10%. Prices of clothes are similar to the ones in the UK so I'm not really going wild. Sometimes we get something on sale. The nappies for Maya are a tiny bit more expensive but a real crap. I tried about 4 types already and the best of all are... LG. Yes, LG nappies. Well, I didn't know LG is in a nappy business. Just like I didn't know Hyundai has shopping centres and Samsung produces cars.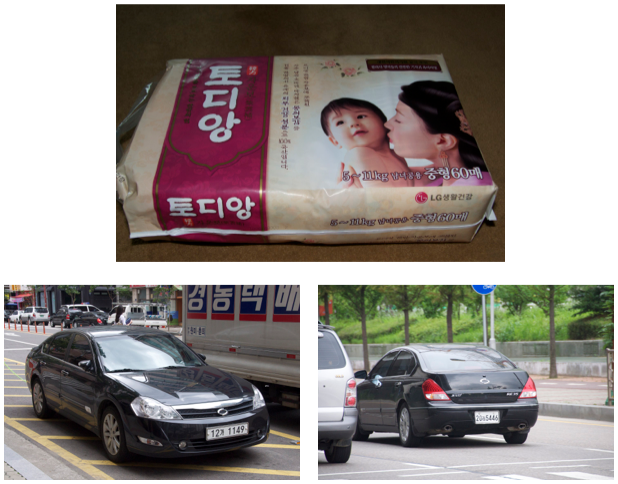 Oprócz centrów handlowych praktycznie na każdym rogu znajduje się jakiś lokalny sklepik - GS25 (skojarzył mi się z PRLowskim Ge-esem), Gmart24, Family Mart, Day&Night... Można w nich kupić wszystko od napojów po przekąski, lody, kosmetyki, chusteczki itp. Takie podstawowe produkty jak w każdym osiedlowym sklepie. Przed każdym takim sklepem stoją stoliki i krzesła i często widzę ludzi tam przesiadujących jakby nie mieli nic lepszego do roboty...
Next to shopping centres and supermarkets, there are a lot of convenience/local shops. The stores names are in English - GS25, Gmart24, Family Mart, Day&Night... You can buy anything in them - snacks, nappies, drinks, alcohol - all basic products you might need. In front of every shop there are tables and chairs and I can see quite often a lot of people just hanging around there, as if they had nothing better to do…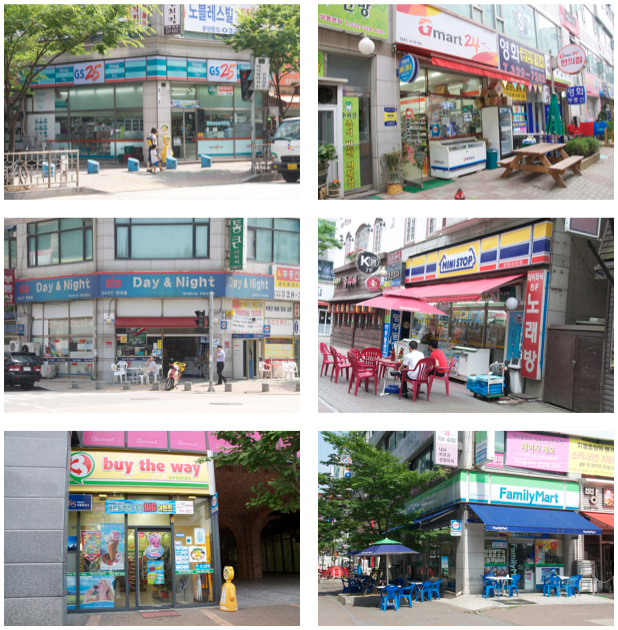 Seul to dopiero raj dla zakupowiczów. Tam są całe dzielnice zakupowe i tygodnie można spędzać na bieganiu po sklepach. Dongdaemun jest największą taką dzielnicą i tam większość centrów handlowych otwarta jest całą dobę. Jak nie można w nocy spać to zawsze to jakaś opcja zabicia czasu :) 
Seoul is for sure a heaven for shopping addicts. There are whole shopping districts and you can spend weeks running around the shops. Dongdaemun is the biggest shopping district where most of the shops are open 24/7. If you can't sleep at night, you have an option of killing the time :)