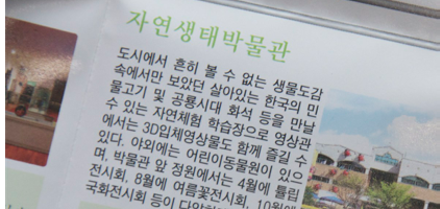 18/07/2010
Jak wszystkim wiadomo nie od dziś język angielski jest na tyle popularny ze jak mówisz po angielsku to wszędzie się dogadasz. W krajach w których do tej pory bywaliśmy nie mieliśmy nigdy najmniejszych problemów. 
W Korei to trochę inna bajka bo mało kto mówi po angielsku. W szkołach uczą angielskiego i najczęściej zdarzy się że zagadają do nas jakieś nastolatki pytaniami po angielsku typu 'skąd jesteś? jak masz na imię?', ale wśród dorosłych mało kto zna angielski, albo mają gdzieś tam nauczone podstawy, coś pamiętają (Bye, Hello) ale wstydzą się chyba mówić (?).  
Ale od czego mamy 'body language' czyli język ciała. Na migi czy obrazkowo można się dogadać i nie ma większych problemów. Napisy tez w większości są po angielsku (drogowskazy, czasem nazwy restauracji, w niektórych centrach handlowych spis co na którym piętrze itp). Całe szczęście że koledzy i koleżanki z pracy Piotrka mówią po angielsku :)
Koreański język wygląda trochę jak 'zbiór dziwnych znaczków' ale jest to taki sam język jak każdy inny. 'Wystarczy' nauczyć się koreańskiego alfabetu i zasad pisowni. Problemem tylko będzie to, że nie będziesz rozumieć co przeczytałeś więc słownictwo to podstawa jak w każdym obcym języku którego się uczymy. 
As you may all know, English language is so popular in the world that when you speak English you can communicate with anyone anywhere in the world. In the countries we visited so far we usually didn't have any problems with communication. 
In South Korea, it is a little bit of a different story because there are really few people speaking English. English is taught at schools and we happen to be stopped more by teenagers than adults, asking some simple questions in English (Where are you from? What is your name?). There are not many adults speaking English, or maybe they know some basics and remember few bits like Hello or Bye, but I have an impression they may be, for some reason, ashamed of talking in English...
Body language helps in most cases. Using gestures or pictures it is pretty easy to communicate here. The signs, names of places, road signs are all in English, next to Korean; sometimes in shopping centres the index of each floor and what can you find and where is also in English. Thankfully Piotr's workmates all speak English :)
Korean language looks a little bit like a collection of bizzare signs but in fact it is just like any other language. It is 'enough' to learn korean alphabet and writing rules. And you can read Korean! The only problem you can have is once you learn to read it, you won't understand what you just read so vocabulary is a priority just like in any other language.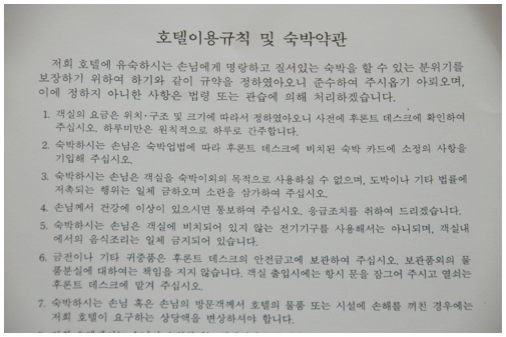 Hangul to nazwa Koreańskiego alfabetu. Alfabet składa się z 10 samogłosek i 14 spółgłosek (plus istnieją dodatkowe dwugłoski i połączenia niektórych samogłosek). W szkołach dzieci uczą się go w formie tabliczki mnożenia i wygląda tak:  
Hangul is a name of Korean alphabet. It consists of 10 consonants and 14 vowels (plus other diphthongs and vowel clusters). At school kids learn it like a multiplication table and it looks like this: 
Samogłoski znajdują się równolegle u góry, spółgłoski prostopadle po lewej. Reszta to logiczne połączenia spółgłosek z samogłoskami i trzeba się nauczyć jakie dźwięki wydają. Nie takie trudne jak się wydaje :)
Vowels are located horizontally at the top, while consonants are located vertically on the left. The rest is just a connection of consonants with vowels so you need to learn how to read them. It is not as difficult as you think :) 

     Pisownia polega na tym że wyrazy składają się z 'bloczków'. Każdy taki bloczek to pojedyncza sylaba (i z zasady musi mieścić się 'w kwadracie'). Sylaba musi się składać się z conajmniej dwóch liter i zaczynać od spółgłoski i po niej zawsze musi być samogłoska (plus jeszcze jedna lub dwie spółgłoski - max 4 litery w sylabie). Jeśli wyraz zaczyna się od samogłoski - wtedy w pisowni na pierwszym miejscu w sylabie ląduje nieme ㅇ
W pisowni - w zależności od kształtu litery - w sylabie samogłoski lądują albo obok spółgłoski albo pod nią.  
Na przykład banan to tutaj tak samo jak po angielsku 'banana' - 3 sylaby więc po koreańsku to wygląda tak: 
                        바나나 (ba - na - na) 
Przynajmniej wiem która pozycja na kwitku z Tesco to banany :) 
Szampon to tutaj prawie tak samo jak po angielsku 'shampoo': 샴푸  (sjam - pu)
Ja korzystając z darmowych lekcji i wskazówek w internecie już opanowałam mniej więcej jak się czyta jaka literę więc czytanie napisów koreańskich jest w miarę łatwe. Pomijam fakt ze w 99% przypadków nie wiem co znaczą ;) 
Osobiście używam tylko wyrazów które zdążyłam poznać - dziękuję, dzień dobry, ale wiem że czasem różnica jednego dźwięku, którego my nie słyszymy/nie widzimy różnicy - wyjdzie nam kompletnie nie to co zamierzaliśmy powiedzieć. 
Dosyć często zdarzają się wyrazy angielskie napisane po Koreańsku - wtedy jak się je czyta to znając angielski wiadomo co to za wyraz (np: banana, shampoo) 
Kilka przykładów koreańskich zwrotów: 
감사합니다     - kamsamnida (dziękuję)
사랑해요         - saranghaeyo (kocham cię)
안녕하세요     - annyeonghaseyo (dzień dobry)
Używając Koreańskiego alfabetu można napisać praktycznie wszystko: 
'Maya' napisane koreańskim alfabetem to:  마야  (ma - ya) 
'Ela'  -  예라 
'Piotr'  -  피오트르 
Writing rules are that a word is a collection of 'blocks'. Each 'block' is a single syllable (and it has to fit a square box). Each syllable must consist of at least 2 letters, the first always needs to be a consonant, that has to be followed by a vowel (and then sometimes by another vowel or two - max 4 letters in a block). If the word starts with a vowel, then the first letter in a 'block' will be a silent ㅇ
In writing - depending on the shape of the letter - vowels will go next to the consonant, or under it. 
For example, "banana" in Korean is also "banana" so we have 3 syllables (3 blocks): 
                    바나나 (ba - na - na) 
At least I know which bit on a Tesco receipt is bananas :)
"Shampoo" - 2 syllables: 
                    샴푸  (sjam - pu)
I read a lot on the internet about Hangul and used some free basic lessons so more or less I know how to read Korean words -it is pretty easy once you practice a bit. Well, I know, I don't understand 99% of what I read :)
For an everyday communication I use some of the basic words like 'thank you' or 'good morning', but I also know that when you speak or read in Korean, some sounds might be so similar that we don't see or hear the difference, so you may end up with saying something completely different from what you intended to say. 
You can see English words written in Korean alphabet very often so sometimes you just know what it is (like banana or shampoo)
A few Korean phrases: 
        감사합니다     - kamsamnida (Thank you)       
        사랑해요         - saranghaeyo (I love you)
        안녕하세요     - annyeonghaseyo (Good morning)
And what's really cool is that you can write ANY word using Korean characters so: 
Maya  -  마야  
Ela       -   예라 
Piotr    -   피오트르