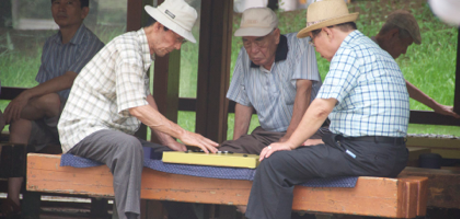 15/08/2010
Kilka dni temu poszłam z Mayą na spacer do Jungang Park (Central Park). To jakieś 20 min spacerkiem w jedną stronę. Pogoda saunowa więc 'nie było łatwo' ;) Ale warto było się przejść. Pohuśtałyśmy się na huśtawce, Maya zjechała z moją pomocą z małej zjeżdżalni, i potem poszłyśmy się pogapić na Koreańczyków grających w gry planszowe których wcześniej nie widziałam na oczy. 
 Few days ago I went for a walk with Maya to Jungang Park (Central Park). It is about 20 min walk. It was really humid so 'it wasn't easy' ;) But it was worth it. I took Maya on a swing and then on a small slide. Then we went to watch Korean guys playing board games I have never seen before.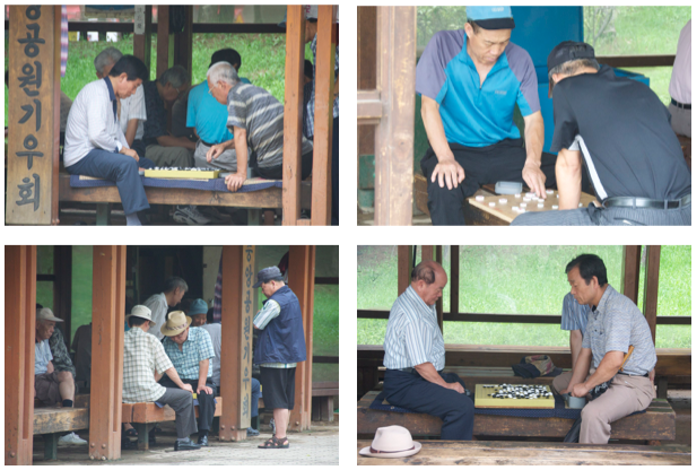 Po powrocie do domu poszperałam trochę w internecie i znalazłam conieco na temat tych gier, i dowiedziałam się że jedna nazywa się BADUK a druga JANGGI. 
Baduk (바둑) (zanana też pod nazwą Go) to starożytna gra planszowa która powstała w Chinach ponad 2500 lat temu. Jest dla dwóch graczy i pomimo prostych zasad, polega na dosyć zaawansowanej strategii. Gracze na zmianę układają czarne i białe kamyczki (pionki) na kwadratowej planszy przeciętej 19 liniami poziomymi i 19 pionowymi. Celem gry jest otoczenie własnymi kamyczkami jak największego terytorium planszy. 
When we came back, I googled a bit and found out what those games are. One is called BADUK, the other is called JANGGI.
Baduk (바둑) (also known as Go) is an ancient board game that originated in Chona over 2500 years ago. It is for 2 players and apparently rich in strategy, despite its simple rules.
Two players alternately place black and white stones on the vacant intersections of a grid 19x19 lines. Once placed on the board, stones cannot be moved elsewhere, unless they are surrounded and captured by the opponent's stones. The object of the game is to control (surround) a larger portion of the board than the opponent.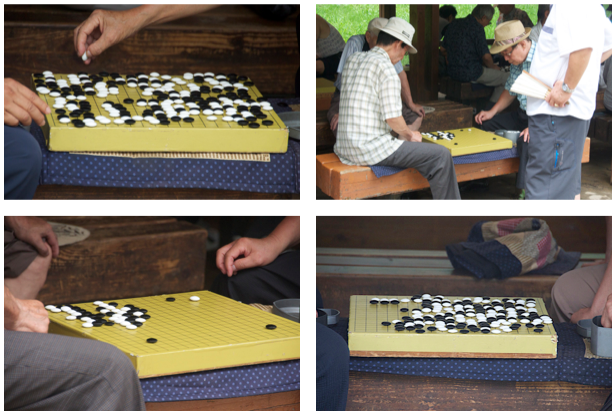 Więcej na temat gry i jej zasad można poczytać TUTAJ 
More about the game and its rules you can read  HERE 
Janggi (장기) to Koreańska strategiczna gra planszowa, oparta na Chińskiej grze Xiangqui, i wygląda bardzo podobnie, tyle że Koreańska wersja ma wprowadzone pewne innowacje. Gra nazywana jest też Koreańskimi szachami, i w Korei jest uważana za grę hazardową ponieważ często gracze grają w nią o pieniądze. 
Plansza zawiera 10 linii przebiegających wzdłuż i 9 linii przebiegających wszerz. Pionki to płaskie dyski, różnej wielkości, oznaczone Chińskimi literami - niebieskie (lub zielone) i czerwone. Każdy z tych pionków ma swoją funkcję, podobnie jak w zwykłych szachach: Generałowie, Strażnicy, Słonie, Konie, Rydwany, Działa, Żołnierze. 
Janggi (장기) is a Korean board game based on a Chinese game Xiangqui and looks very similar, but Korean version has some innovations. The game is usually refered to as Korean chess and in Korea it is considered to be a gambling game as the men usually play for small amounts of money. 
The board is composed of 90 intersections of 9 vertical files and 10 horizontal rows. The pieces are labeled with Chinese characters - blue (or green) and red - and each piece has its own function, just like in normal chess: there are Generals, Guards, Elephants, Horses, Chariots, Cannons, and Soldiers.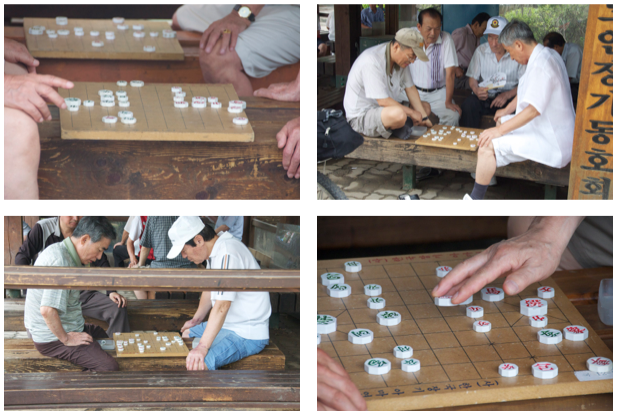 Więcej na temat gry i jej zasad można poczytać TUTAJ:             
More about the game and its rules you can read  HERE: 
W parku widzialłam tylko i wyłącznie mężczyzn grających w obie gry, plus sporo dodatkowych gapiów i kibiców. 
Najciekawsze że działo się to w piątek w godzinach popołudniowych więc podejrzewam że ci faceci to emeryci. 
While we were there, I could see only men playing those games, and there were also a few spectators. Interesting is the fact that it all was happening on a Friday afternoon so I assumed that most of those guys are retired.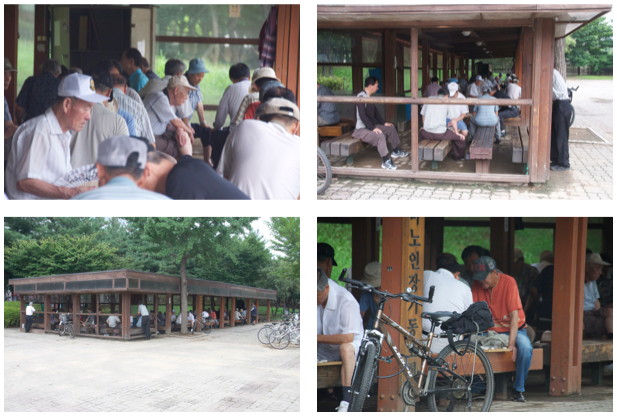 Bardzo ciekawy sposób spędzania wolnego czasu :) 
I think it's a very interesting pastime option :)