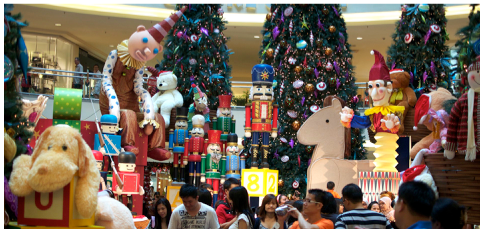 13/12/2010
ŚWIĘTA BOŻEGO NARODZENIA W MALEZJI / CHRISTMAS IN MALAYSIA
W tym roku dane nam jest spędzać święta Bożego Narodzenia w Malezji. Święta tutaj są dokładnie tak samo skomercjalizowane jak wszędzie indziej na świecie. W centrach handlowych panuje szał zakupów, wśród masy dekoracji świątecznych, gdzie oczywiście odbywają się mega-wyprzedaże. 
This year's Christmas we happen to be spending in Malaysia. Christmas here is commercialised exactly the same as anywhere else in the world. Shopping centres are full of shopping people, among a huge amount of Christmas decorations, where huge mega sales are held. 

W centrach handlowych panuje szał zakupów, są tłumy, tłumy ludzi, robią sobie zdjęcia przy misiach w czerwonych czapach czy ponadwymiarowych choinkach. Nie tylko dzieci, starsi i młodsi, i wydaje się jakby specjalnie do centrum handlowego przyszli po to żeby porobić sobie zdjęcia, jakby to były ich pierwsze święta. 
Choinki królują tutaj standrdowe, ale można też kupić białe, pomarańczowe, czerwone, niebieskie - do wyboru do koloru. My w tym roku zadowolimy się standardową zieloną, ale sztuczną i raczej malutką, aby symbolicznie było. I tak święta będziemy spędzać na Borneo więc za bardzo nie szalejemy z dekoracjami. 
In shopping centres people are going wild doing Christmas shopping, it is really crowded. Everyone takes photos with bears in Santa's hats or huge Christmas trees, everyone no matter what age they are, as if they came here just to take loads of photos, as if it was their first time. 
You can buy standard green Christmas trees, but there are also white, red, orange, blue - whatever colour you want. We decided to stick to the green one, but an artificial one and very small, just as a symbol and reminder. We will be spending this time in Borneo so we don't go crazy with the decorations.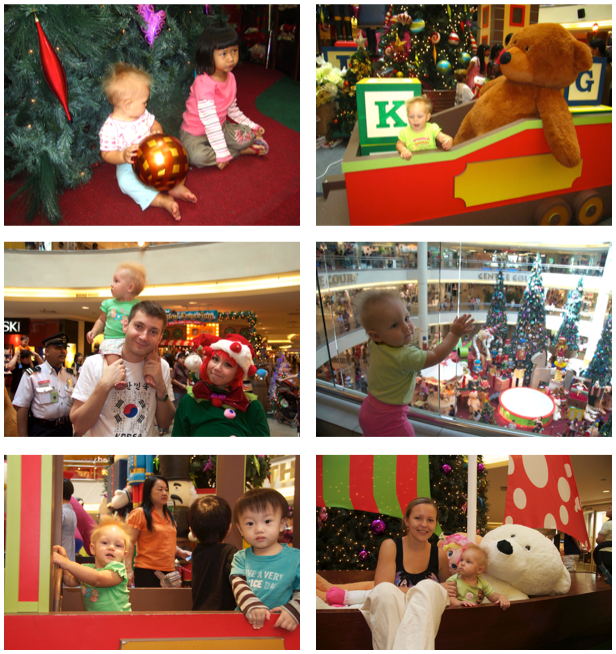 Maya zaliczyła swoje pierwsze spotkanie ze Świętym Mikołajem, nie bała się i bez problemu siadła mu na kolanach ;) Dodatkowo ma masę zdjęć z bombkami, choinkami, mikołajami, bałwanami, misiami i innymi dekoracjami w głównie w Mega Mall. Robi tutaj równie sporą furrorę jak w Korei więc często ludzie robią jej zdjęcia albo pytają czy mogą sobie  z nią zrobić zdjęcie. Zastanawiam się czy nie zmotać jej koszulki z napisem "1 Zdjęcie - 1 Rinngit" ;) Trochę byśmy zarobili :) 
Maya met Santa Claus for the first time and she wasn't afraid and didn't have any problems sitting on his lap. She also has a lot of photos with trees, Santas, snowmans teddy bears and other decorations, mainly we took at Mega Mall. She is pretty popular here as well as she was in Korea, so people often ask if they can take photos of her or with her. I'm thinking of getting her a T-shirt with a logo "1 Photo - 1 Rinngit" ;) We would definitely earn some dough :)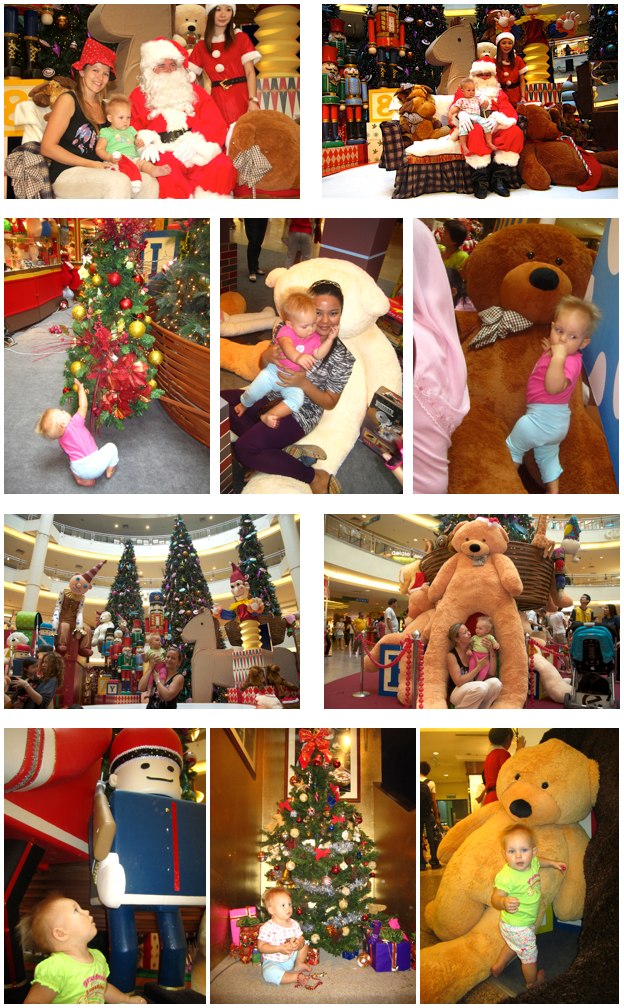 Jest kolorowo, wesoło i... gorąco, trochę nietypowo bo chodzimy w krótkich rękawkach i klapkach. Mi odpowiada :) Pozdrawiamy ciepło zasypaną śniegiem Europę! (nie chcę się zamienić ;)
It is colourful here, jolly and... hot, a bit unusual as we wear short sleeves and flip flops. I don't mind! Hello to everyone in snowed in Europe! (I wouldn't like to trade ;)
Wszystkim krewnym i znajomym życzymy udanych i pogodnych Świąt Bożego Narodzenia oraz Szczęśliwego Nowego Roku! 
Zobacz nasze wirtualne życzenia: 
To all our family and friends we wish an enjoyable and cheerful Christmas and a Happy New Year! 
Watch our virtual Xmas card: