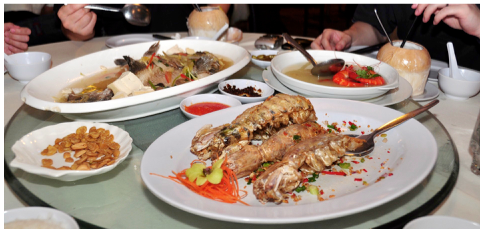 24/11/2010
OWOCE MORZA / SEAFOOD
W jeden z pierwszych wieczorów w Malezji wybraliśmy się na kolację do restauracji serwującej owoce morza (seafood) - South Sea Seafood Restoran. Zaprosiła nas tam Vivian, razem z Jerry i Leo - przyjezdni z Chin, pracujący przy tym samym projekcie z Piotrkiem, których już poznaliśmy w Korei. 
One of our first evenings in Malaysia we went to a seafood restaurant for dinner - South Sea Seafood Restoran. We were invited by Vivian, together with Jerry and Leo - from China, both working with Piotr on the same project, whom we met already in Korea. 
Restauracja znajduje się jakieś 15 min samochodem od nas i jest dosyć duża, urządzona na świeżym powietrzu z porządnym zadaszeniem, i całość stoi na palach w jakiegoś rodzaju zbiorniku wodnym. 
Wydawało nam się że w Korei to mają niezłą kolekcję restauracji serwujących owoce morza, z akwariami na zewnątrz i rybami czy ośmiornicami do wyboru. To co zobaczyliśmy tutaj bije Koreańskie knajpki na łeb.
Dania można wybrać z menu lub można sobie pooglądać akwaria z tym co tam serwują i wybrać na co ma się ochotę, dosłownie pokazując palcem dokładnie którego homara czy kraba chcę zjeść :) W akwariach pływają krewetki, ryby, mureny, homary, kraby, ostrygi... do wyboru do koloru. 
The restaurant is about 15 min drive from us and is pretty big, in the open air, with a proper roofing as well. The whole is built over some sort of a water tank/pond and you can see the water through the floor.
We thought that Korea has a great collection of seafood places, with outside fishtanks with fish and octopuses and others, to choose from. What we saw here in Malaysia beats Korean restaurants by a mile. 
You can order the dishes from the menu or you can have a walk around the fish tanks and choose whatever you feel like eating, just by pointing your finger at the lobster or crab you want to have :) The tanks are full of prawns, fish, moray eels, lobsters, crabs, oysters... plenty of choice. 

Zamówiliśmy rybę, kraby, trochę krewetek i wielkie krewetki modliszkowe (Mantis Prawn). Do picia piwo, a ja popularny tutaj świeży kokos z sokiem do wypicia i miąższem do wyskrobania od środka. Nawet Maya zajadała :)  Ja jadłam głównie rybę, za to Piotrek zachwycał się krewetką modliszkową ale mi jakoś specjalnie nie smakowała. 
Właściwie to restaurację odwiedziliśmy już dwa razy. Za drugim razem jedliśmy też rybę, kraby ale Piotrek zażyczył sobie meksykańskiego geoduck'a - rodzaj dużego małża. Dostaliśmy go w postaci sashimi czyli posiekanego na surowo, i duży gar gorącej zupy do której można było też wrzucać jego kawałki i zjadać po szybkim ugotowaniu. Niektóre kawałki były smaczne, ale niektóre gumowe i nie dało się ich pogryźć za bardzo. W surowej postaci nie próbowałam chociaż Piotrkowi smakowały. 
We ordered a fish, crabs, some prawns and the big mantis prawns, beer for Piotr and fresh coconut juice for me, with the coconut bits to scrape out from the inside of the nut. Even Maya liked these :) I ate mainly fish, and Piotr really liked the mantis prawn, which was not my favourite. 
We actually visited the place twice already. The second time we also ordered fish and some crabs and Piotr decided to have geoduck, which is some sort of a clam. He got it fully chopped, raw, as a sashimi, but they also brought a big jar of hot soup and we could have bits of it cooked as well. Some bits were ok but some were a but gummy and difficult to chew. I haven't tried the sashimi version but Piotr liked it.

W restauracji znajduje się też ozdobny stawik więc Maya miała frajdę gapiąc się na ryby, chciała nawet ich dotykać :) 
Jedzenie było bardzo smaczne bo i świeże a to zawsze lepiej smakuje. No i oczywiście jak w całej Malezji jadanie w restauracjach należy do bardzo tanich więc napewno jeszcze nie raz tam wpadniemy z wizytą. 
The restaurant has got a small decorative pond, so Maya had some entertainment and wanted to touch the fish as well :) 
The food was really tasty mainly because it was all fresh. And of course in Malaysia dining is pretty  inexpensive so we will definitely visit it again.