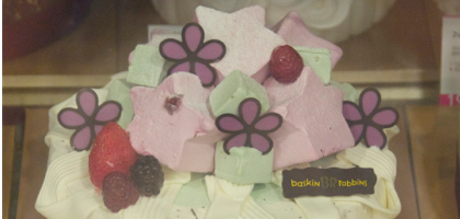 01/09/2010
Typowo Koreańskie przekąski to na przykład suszona ośmiornica czy mątwa, pakowane próżniowo i można je kupić w każdym supermarkecie i lokalnym sklepie. Do tego dochodzi na przykład sushi, które w Tesco pakowane jest każde osobno i można kupować na sztuki; kimbap czyli ryż z różnościami zawinięty w suszone liście wodorostów, i pokrojony w plastry; samgak kimbap to kimbap w kształcie trójkąta, zapakowany w folię więc można kupować na sztuki jako szybką przekąskę.     
Typical Korean snacks include dried squid or dried octopus, vacuum packed, that you can buy in every local store or supermarket. Sushi are another example - you can buy those individually wrapped, priced per piece, at supermarkets; kimbap is sliced sushi roll; samgak kimbap is a kimbap - wrapped in seaweed and triangle shaped, wrapped in foil and you can buy these individually as well, good as a quick snack.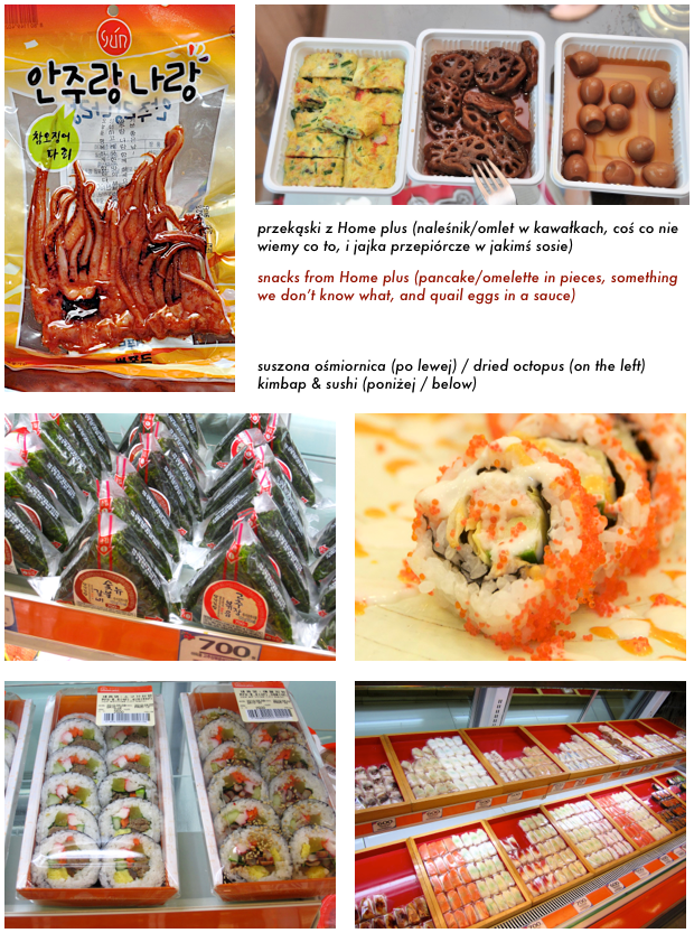 Na chodnikach popołudniami rozstawiają się 'namioty' z typowo koreańskimi przekąskami, których do wyboru jest sporo i można spokojnie się najeść, bardzo niskim kosztem. Namiotów po drodze do Home plus stoi około 4-5. W namiotach jedzenie które jest serwowane to np gotowane jajka w panierce, krewetki w panierce, ośmiornica w panierce, 'pierogi' z nadzieniem mięsnym, hot dog na patyku (parówka w cieście) - i wszystkie te przekąski są wcześniej robione i odgrzewane w oleju. Nie najzdrowsze ale raz na miesiąc, czemu nie :) Do tego można sobie zaserwować deokbokki czyli kawałki rice cakes (ryżowych klusek - o nich poniżej) w ostrym sosie chilli, z warzywami czy np. mięsem. Te same 'namiotowe' przekąski można kupić również w supermarketach gdzie są osobne stoiska z tego samego typu jedzeniem, i są też miejsca do siedzenia więc można zjeść w trakcie robienia zakupów. Ale ja uważam że najsmaczniejsze są kupione te na ulicy :) 
In the streets, usually in the afternoon, you can see a lot of street food vendors rolling out their carts with tents, where they serve a very good Korean street food, for a very low price. The number of street food vendors are about 4-5 on my way to Home plus (which is about 5-10 min walk). The food they sell are for example hard boiled eggs, octopus, all coated in some sort of a dough, fried dumplings with meat filling, hot dog on a stick (a sausage covered in a thick spongy dough and fried - and all those are prepared earlier and then only heated in a hot oil. Not very healthy, but once a month won't hurt ;) 
You can also have deokbokki which is rice cakes (more about those, below) in a hot chilli sauce, with veggies and sometimes meat. The same 'street food' you can also get at supermarkets where they have separate stands with those, and there are some chairs and tables so you can actually have some of those during your shopping. I think they taste best form the street vendors :)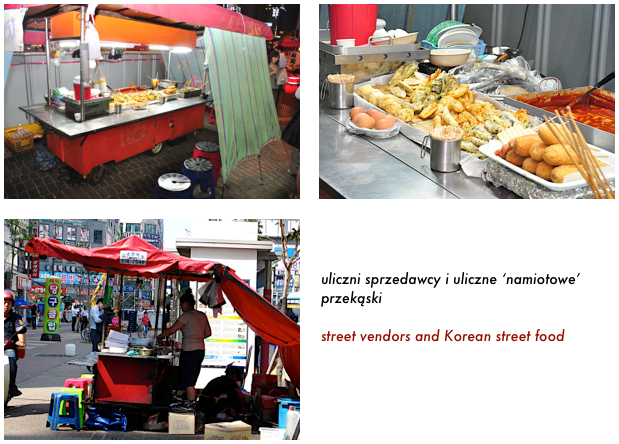 Nie wiem jak wyglądają Koreańskie posiłki w domach, ale Koreańskie menu w restauracjach nie ma deserów. Typowo koreański tradycyjny posiłek w tradycyjnej koreańskiej restauracji czasami kończymy czymś w rodzaju kompotu z cynamonu. 
Z tego co zaobserwowałam Koreański deok - ryżowe ciastka - to chyba najbliżej przypomina coś co można by nazwać Koreańskim deserem. Nazwa 'ciastka' do nich nie pasuje i ze względu na smak i konsystencję nazywam je ryżowe kluski, są różnej wielkości i kształtów, mają różne kolory ale wszystkie smakują tak samo. Smakują trochę jak kluski, albo kluski na parze/knedle. Niektore mają nadzienie np z czerwonej fasoli (słodkie). Jadłam nawet takiego który miał nadzienie czekoladowe i był oblany czekoladą. Jakikolwiek kształt czy kolor, mi smakują :) Ale za dużo się ich nie da zjeść :)
         I'm not familiar with Korean home cooking and eating, but eating in Korean restaurants does not involve any desserts. A typical Korean meal in a traditional Korean restaurant we sometimes finish with some sort of a cinnamon wine.
What I noticed, Korean deok (rice cake) could be something I would definitely class as a Korean dessert. The name rice cakes isn't actually correct as they have nothing to do with cake neither in taste nor texture so I call them rice dumplings. They can be of different sizes and colours, and they all taste the same. The taste is a bit like very thick dumplings. Some of them are small, some are big with fillings (for example red bean paste that is really sweet). I even hade one that was filled and covered with chocolate. Whatever the shape or colour, I like them but you can't eat too many of those :)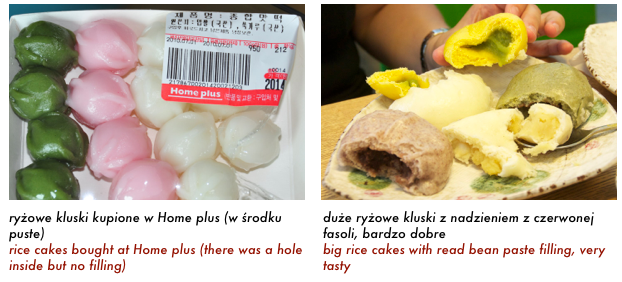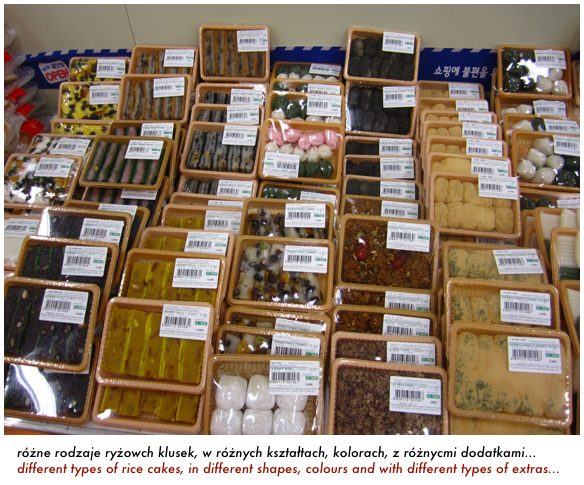 Kto ma ochotę na kawę, jest tutaj mnóstwo coffee shops czyli kafejek serwujących kawę w róznych postaciach, koktajle owocowe, jak i przekąski typu ciastka czy owoce - włącznie z pomidorami (pomidory są tutaj traktowane jak owoce, w supermarketach leżą obok jabłek i innych owoców). Obok wszechobecnego Starbucks'a można iśc do Yoger Presso, Hollys Coffee, czy Angel-In-Us Coffee (nie wiem czy ta ostatnia ma coś wspólnego z Angeliną od Brad'a Pitt'a ;) lub do jakiejkolwiej innej mniejszej kawiarenki. Ilość kafejek na km2 w tym kraju jest porównywalna do ilości sklepów czy restauracji. Widać wyraźnie że moda na coffee shops dotarła tutaj i stała się nieodłączną cechą Koreańskiego stylu bycia.
If you feel like having a coffee, Korea has got an abundance of coffee shops, where they serve different types of coffee, of course, as well as smoothies, fruit cocktails, or snacks such as cakes or fruit - including tomatoes (tomatoes are here a bit like fruit - at the shops you will find them next to apples). There is the omnipresent Starbuck's but you can also visit Yoger Presso, Hollys Coffee or Angel-In-Us Coffee (not sure if this one has anything to do with Brad's Angelina ;) or many other coffee shops. The number of coffee shops for a square km in this country is comparable to the great number of shops and restaurants. The coffee shops popularity got everyone even here and you can see that they became an inseparable part of Korean lifestyle.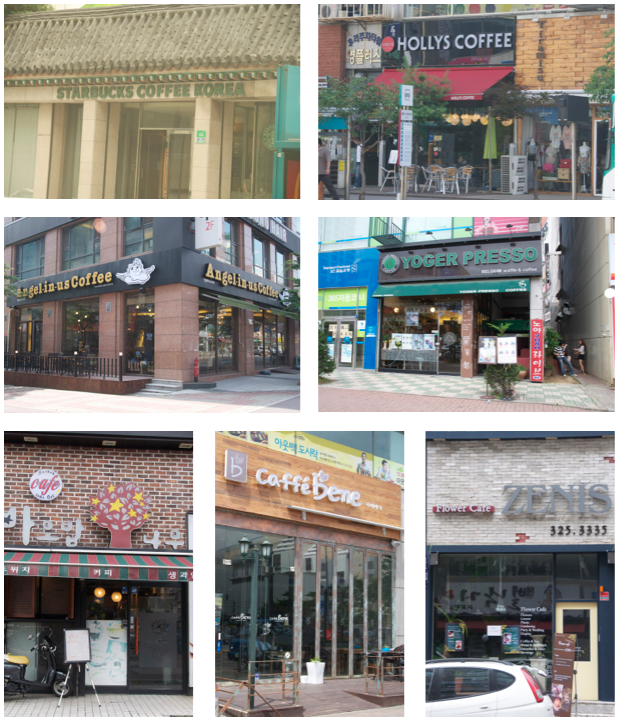 Oprócz coffee shops popularne są też tutaj sieci cukierni czy kawiarenek typu: 
Paris Baguette i Tous Les Jours - francuskie kanapkownie/bagietkownie/kawiarnie ,w obu można napić się kawy czy herbaty, kupić wypieki francuskie, kanapki, ciasta, slodycze, desery, przekąski, itp.
Dunkin Donuts - pączki i inne przekąski; Smoothie King to sieć 'kawiarenek' w której serwują koktajle owocowe różnego rodzaju, do wyboru do koloru. 
Baskin Robins - sieć lodziarni - przepyszne lody, koktajle owocowe i ciekawie wyglądające lodowe torty które można kupić i zabrać do domu w steropianowym pudełku do którego razem z tortem włożony jest suchy lód! 
 Apart from coffee shops there are a lot of branches of sweet shops or snack shops such as: 
Paris Baguette i Tous Les Jours - French sandwiches/baguettes place, where you can have tea or coffee and buy some French bakery products and desserts. 
Dunkin Donuts, Mister Donut - doughnuts and other snacks and drinks. 
Smoothie King - delicious and healthy smoothies and fruit cocktails, any type and any colour. 
Baskin Robins - they sell delicious ice cream, fruit cocktails and a really cute ice cakes that you can take home.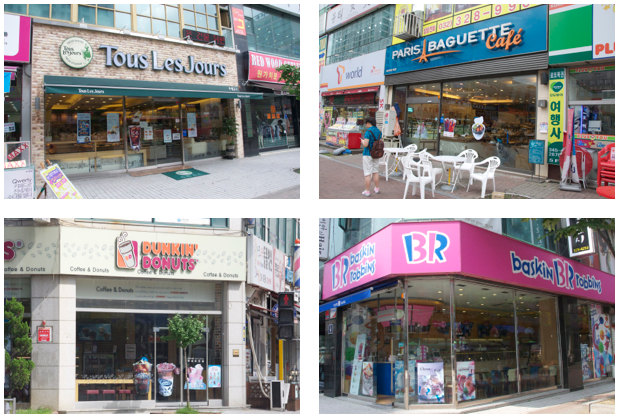 Zawsze zerkaliśmy na ciekawie wyglądające lodowe torty w Baskin Robins i ostatnio nawet zdecydowaliśmy kupić jeden w ramach uczczenia naszej siódmej rocznicy ślubu :) Tort lodowy jest pakowany w steropianowe pudełko razem z suchym lodem, który utrzymuje niską temperaturę w pudełku żeby mieć czas na dotarcie do domu i tort się nie roztopił. Właściwie to nigdy nie widzieliśmy suchego lodu więc mieliśmy podwójną frajdę (ciacho które zjedliśmy na kolację i suchy lód do zabawy!) Do tortu dołączane są świeczki (my wzięliśmy 7) i 2 zapałki. Tort jest zrobiony z samych lodów, ładnie ozdobiony, ten nasz był śmietankowo-owocowy z dodatkami z czekolady. Całkiem smaczne dla amatorów lodów :) Ale wydaje mi się że bardziej nas zachwycił suchy lód :)
We always stare at the interesting looking ice cakes at Baskin Robins and actually justified buying one to celebrate our 7th Wedding Anniversary :) The ice cake is packed in a polystyrene box and put dry ice in it to keep it cold till you get home. Well, we have never seen dry ice before so we had a double fun (ice cake we had for dinner AND dry ice to play with!). The cake also comes with candles (they ask how many you need, we took 7) and 2 matches. The cake was just ice cream in a really nice finish and shape, quite tasty if you like ice cream :) I think we had more fun playing with dry ice :)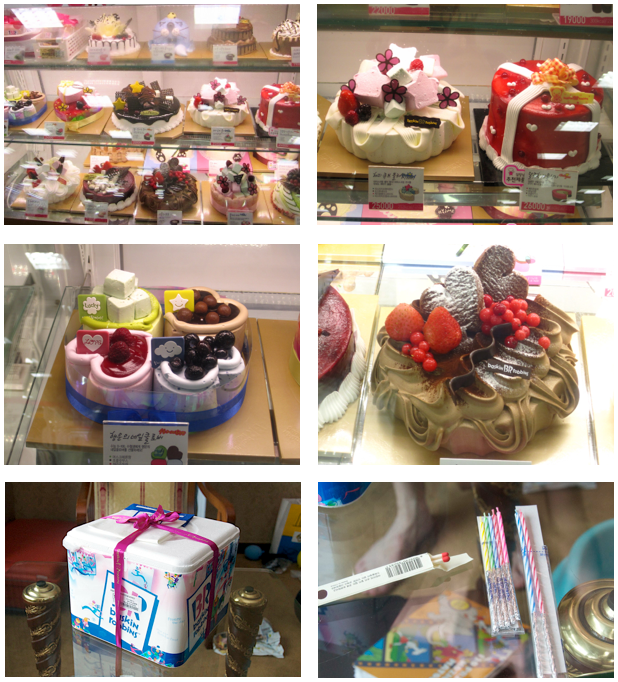 Krótki film o naszym cieście i zabawie suchym lodem :) 
A short video about our anniversary cake and dry ice play :)