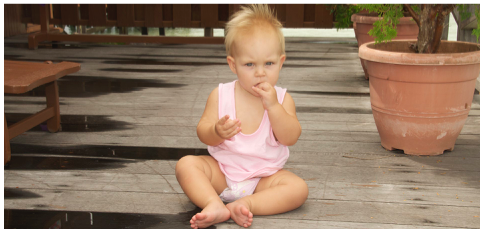 14/01/2011
MAYA IN BORNEO / MAYA IN BORNEO
Wakacje na Borneo to tak naprawdę były pierwsze prawdziwe wakacje dla całej naszej trójki, nie licząc krótkiego weekendu na Jeju w Korei. To tam Maya miała pierwsze spotkanie z morzem i piaskiem ale nie było na tyle przyjemnie, pogodnie i ciepło żeby się kąpać. 
Our holidays in Borneo were the first real holidays for all three of us, except the short weekend stay in Jeju, South Korea. In Jeju Maya had her first encounter with the sea and the sand, but it wasn't nice and warm enough to have a swim.  
Lecąc na Borneo do Mabul Water Bungalows trochę się obawiałam ponieważ nasz resort znajduje się na palach wbitych w płytką wodę a barierki raczej 'dziurawe' więc trzeba było pilnować Mayki żeby się gdzieś za szybko nie zapuściła i przypadkiem nie wpadła do wody (biorąc pod uwagę że już dosyć szybko się porusza). Nasz balkon był między innymi takim miejscem i często podchodziła do brzegów, głównie jak zaglądałyśmy na ryby czy rozgwiazdy. Ale specjalnie się nie szarpała żeby wskakiwać. Czasem musiałam ją trzymać czasami jak chciała się za bardzo wychylać. Było lepiej niż się spodziewałam.
Before going to Borneo and staying at Mabul Water Bungalows I was a bit worried because the resort is a water village and the barriers around it had rather big holes in it so we had to be really careful and make sure Maya doesn't fall in the water (taking into account that she can travel pretty fast now). Our balcony was such a place and very often she made for the edges, to watch some fish or starfish. Luckily she wasn't very keen to jump in so it was not too bad and nothing to worry about. But I had to keep her when she wanted to lean out too far.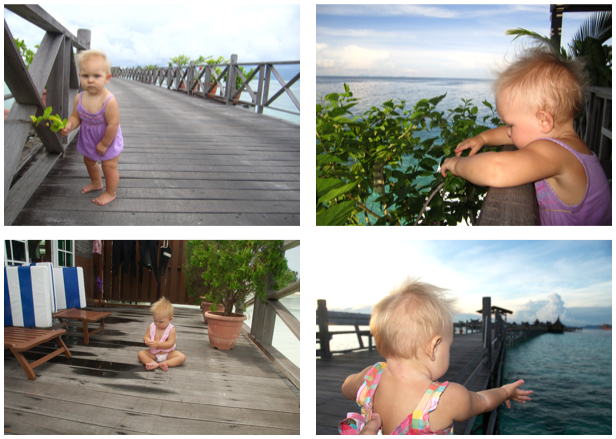 W naszym domku miała do dyspozycji duże drewniane łoże i dosyć często w nim spała (jak nie spała z nami). Bawić się raczej w nim nie bawiła a my nigdy jej nie ograniczaliśmy (i nie ograniczamy) do siedzenia w zamkniętych czterech ścanach więc od samego początku spędza prawie cały czas na podłodze (łóżko służy do spania). 
In our bungalow Maya had a big wooden cot and she slept in it quite often (when she didn't sleep with us). She didn't play in it and we have never limited her to stay within an enclosed space so from the very beginning she has been spending her life outside, on the floor (bed is for sleeping). 

Maya miała niezłą zabawę w morzu, w piasku na plaży i na basenie. Piotrek ją zabierał do wody w kółku, czasem topił, a na plaży zasypywał ją piaskiem. Czasami kopaliśmy też doły  i robiliśmy babki ale Maya w ekspresowym tempie doprowadzała do ich destrukcji. Była z nami też na rafie kilka razy a po zabawie w piachu czy w morzu lubiła bawić się pod prysznicem. 
W restauracji podczas posiłków kiedy najczęściej bawiła się bombkami i wysypywała ziemię z kwiatków. Czasami wygrzebywała kamyki z kwiatków i niektóre lądowały w buzi. Na widok miotły lub miotełki do odkurzania dostawała szału i koniecznie musiała się nimi bawić. Gaśnicę przy naszym domku też często okupowała. 
Maya had a really great time in the sea, in the sand and in the pool. Piotr usually took her swimming with her swim ring and sometimes dipping her under water, and on the beach he usually covered her with sand. We sometimes dug out holes and made some cakes but Maya very quickly caused their destruction. She also went to swim on the reef with us a few times and after playing on the beach she liked playing under the shower. 
In the restaurant during the meals, she played with the Christmas tree very often and she sprayed the plants' soil all over the place. Sometimes she dug out some stones and some of them landed in her mouth. When she saw a duster or a broom, she went mad and wanted to play with those. The fire extinguisher by our bungalow was also of a real interest to Maya.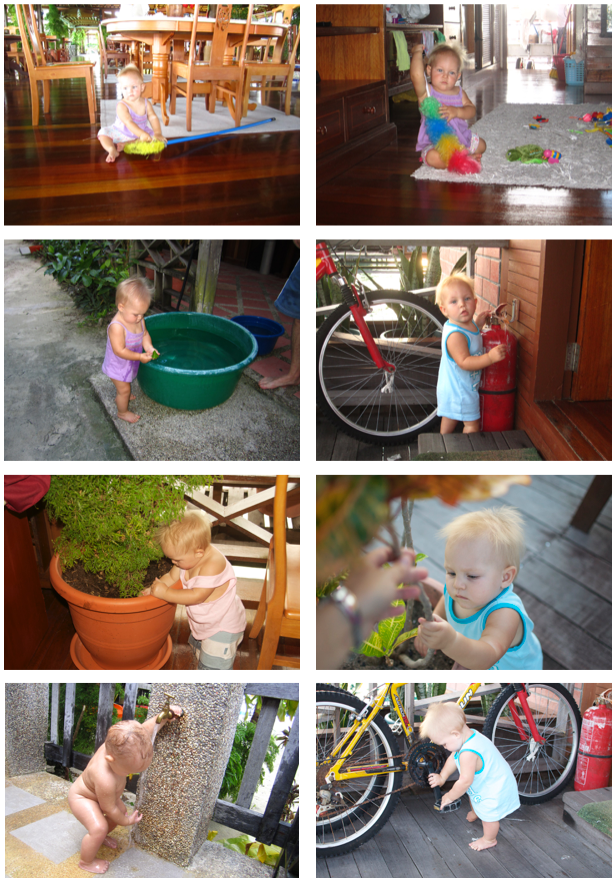 Czasem oglądaliśmy jakieś przyrodnicze programy o zwierzętach, chodziliśmy na spacery po resorcie i podziwialiśmy widoki. Maya zbierała z podłogi wszystko co się dało podnieść, eksperymentowała z kwiatkami różnego rodzaju. Obsługa resortu zawsze się uśmiechała na jej widok i często brali ją na ręce (ale nie zawsze na to pozwalała). Niektórzy z obsługi lub gości robili sobie z nią zdjęcia.
Sometimes we also watched National Geographic, we had walks around the resort while admiring the views. She used to pick up stuff from the floor and did some experiments with the flowers or plants we met. The staff was really nice and always smiling to her and they usually wanted to pikc her up (not that she wanted to be picked up every time). Some of the staff or guests even took photos of her or with her.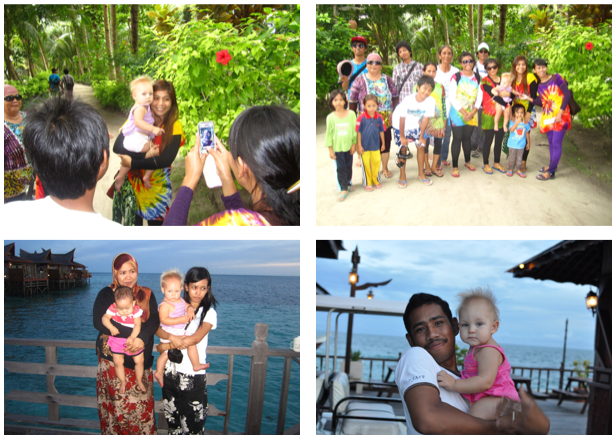 Tych wakacji Maya pewnie nie będzie pamiętać ale dzięki sporej ilości zdjęć - i filmikom - będzie miała pamiątkę :) 
Maya will probably not remember this holoday but thanks to the photos - and movies - she will have some nice souvenirs :)