01/07/2010
Bucheon znajduje się jakieś pół godziny metrem od Seulu. 
Nasz hotel znajduje się w centrum miasta więc wszędzie mamy blisko. Obok hotelu przebiega główna obwodnica Seulowych przedmieść, i zaraz po drugiej stronie znajduje się jeden z wielu parków/skwerów, Sangdong Lake Park do którego chodzę z Mayą jak tylko nie jest zbyt gorąco (do południa lub popołudniu). Ogólnie w mieście przestrzeń jest bardzo dobrze wykorzystana i gdzie tylko jest na to możliwość i miejsce, powstały parki czy skwerki. W budynkach nie ma pustostanów a ścieżki rowerowe to podstawa.
Bucheon is situated about half an hour by subway from Seoul. 
Our hotel is located right in the city centre so everything we need is just a short walk away. Next to the hotel there is a main Seoul Suburbs Circular Express National Road, and right on the other side of it there is one of the many and the biggest Sangdong Lake Park where I take Maya for a walk quite often, usually in the morning or late afternoon, if it's not too hot . In general, the whole city is designed really well, there are a lot of parks and green areas and there is no waste of space; in the buildings I can't see any empty spaces, and bike routes are really common here.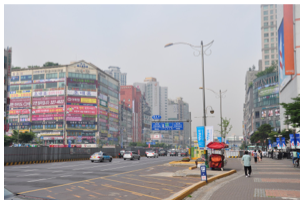 Miasto jest siedliskiem sklepów, knajp, pubów, barów, restauracji, centrów handlowych, plus dominują tu w sporych ilościach apartamentowce 15-30 piętrowe. W promieniu 15 minut pieszo od naszego hotelu mamy Home plus (odpowiednik Tesco) i kilka centrów handlowych po 6-10 pięter każdy. 
The city is a collection of shops, pubs, bars, restaurants, shopping centres and the main panorama: tens of apartment buildings, each 15-30 floors. Within 15 min walk from our hotel there is Home plus (Tesco) and a few shopping centres, 6-10 floors each. 

Samochody tutaj są głownie białe, czarne bądź srebrne. Marki samochodów to Kia, Hyundai lub Daewoo i modele niespotykane w UK. Zdażają się też Peugeoty, Mercedesy czy BMW ale rzadki widok. Plus bardzo popularną marką samochodu jest tutaj …Samsung. :) 
Cars are mainly white, black, grey or silver. Most popular car makes are Kia, Hyundai or Daewoo and mainly models we haven't got in the UK. We can see Mercedes, Peugeot or BMW from time to time as well. And of course one of the most popular makes is ... Samsung :)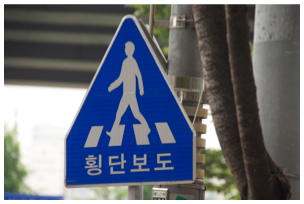 Na przejściach dla pieszych zielone światło to standardowy zielony chłopek a pod nim odliczanie w sekundach (lub w strzałeczkach od góry w dół powoli znikających) ile czasu ci zostało do przejścia.
Pedestrians crossings are quite interesting. Next to the green guy, there is a countdown, so you know how much time you have left to cross. The countdown is either in arrows going down or in seconds, counting down to zero. 

Tam gdzie nie ma świateł trzeba uważać bo pomimo tego ze się jest na przejściu bądź stoi przy pasach, to jadące samochody rzadko mają zamiar się zatrzymać żeby cię przepuścić. Nie ma takiej kultury jazdy jak w UK. Na skrzyżowaniach stają na pasach, pchają się, trąbią, a nawet jak mają czerwone światło to jak nic nie jedzie to i tak jadą (np skręcają w prawo). Jak na sygnale jedzie karetka to rzadko zjeżdżają żeby przepuścić. Jakby ich ktoś gonił…Za to skutery generalnie mogą wszystko. Jeżdżą po chodnikach, w uliczkach które są teoretycznie dla pieszych, a na skrzyżowaniach jadą tam gdzie zielone swiatło, czy to dla pieszych czy dla samochodów.  
Where there is a crossing with no traffic lights, you need to be really careful because even though you are already on it, cars very rarely have any intention of stopping and letting you cross. The culture of driving is much better in the UK. Here it looks like a constant chase. At the junctions they sometimes stop on the crossing, or in the middle of the junction so that they can go very quickly, once it clears. They are not very keen on letting someone in from a side road; they use the horn very often; even when there is a red light, they will usually go, if there is no danger and no one else is coming. Scooters can do anything. They drive on the roads, on the pavements, and at the traffic lights they sometimes go as pedestrians, sometimes as cars - depending which route would be quicker.
Zobacz film o Bucheon / Watch a video about Bucheon:

Nocą miasto wygląda jeszcze ciekawiej bo świecą się a czasem migają wszystkie reklamy i napisy, więc jest bardzo kolorowo. 
Pomimo tego że koszów na śmieci jest jak na lekarstwo, miasto jest ładne, czyste i zadbane. Ale chyba raczej napewno nie zamieniłabym na Bucheon naszego domku z ogródkiem w Chobham :) 
At night the city just glows and sparkles because of all the adverts and business signs. It is a really colourful place. 
I don't see many rubbish bins here (can be quite annoying) but in spite of that the city is really nice, clean and well cared of. However, I wouldn't switch our house in Chobham, to this :)