11/08/2010
Dziś będzie znowu o jedzeniu!
Food Court (restauracja-stołówka) to bardzo fajne miejsce dla głodnego obcokrajowca który nie mówi po Koreańsku. Food Court'y znajdują się w każdym supermarkecie i w centrach handlowych, więc po zrobionych zakupach można od razu coś konkretnego zjeść. 
Today's entry is about food again! 
Food Court is a really useful place for a hungry foreigner who doesn't speak Korean. Food Courts can be found in all supermarkets and in the shopping centres so after doing shopping you can have a proper meal.

Food Court trochę przypomina stołówkę. Znajduje się tam kilka stoisk/kuchni (4-8) gotujących różne potrawy, masa stolików i krzeseł, i jedna kasa. Obok kasy stoją na wystawie dania które w danym Food Court są serwowane. Wszystkie danie są plastikowe ale wyglądają jakby je ktoś dopiero co z kuchni przyniósł. Każde danie ma swój numerek i cenę, i oczywiście opis ale po Koreańsku... 
Food Court looks a little bit like a canteen. There are a few stands/kitchens (usually 4-8), cooking and serving different types of meals. There are also a lot of chairs and tables and one checkout. Next to the checkout, you can find all dishes served at that Food Court, on display. All dishes are plastic but look like real, as if they were just brought from the kitchen. Each dish has its own number, a price and of course description but only in Korean…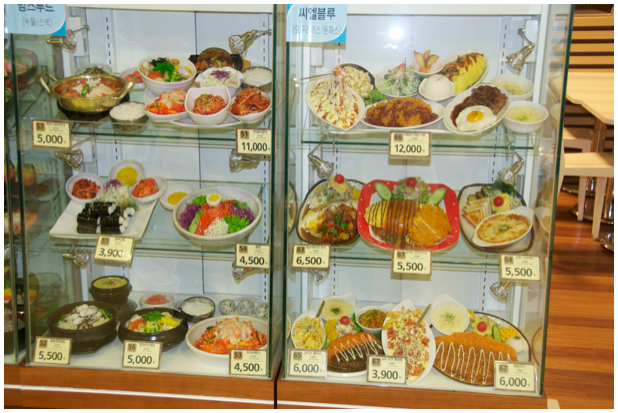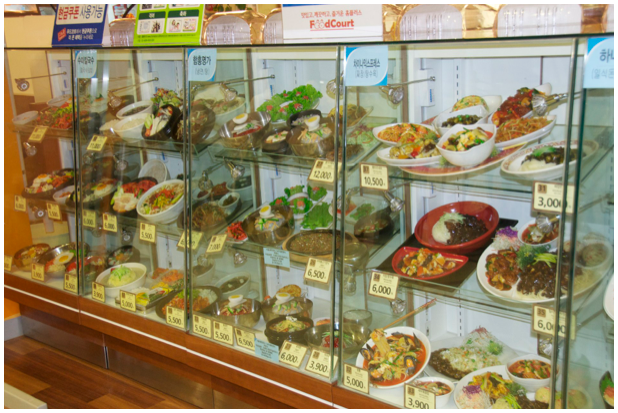 Wystarczy pokazać palcem bądź napisać numerek dania które masz ochotę zjeść. W kasie podajesz pani numerek dania na które masz ochotę, płacisz i dostajesz numerek zamówienia (coś takiego jak numerek na poczcie zamiast stania w kolejce). Siadasz i czekasz aż twój numerek wyświetli się w którymś ze stoisk. Ja nigdy nie wiem w którym, więc obserwuję wszystkie naraz, bo na kwitku nie udało mi się rozszyfrować czy jest nazwa stoiska czy nie. Numerek się wyświetli, idziesz odebrać, bierzesz sztućce i zjadasz. Dania naprawdę w 98% wyglądają dokładnie jak te plastikowe na wystawce. Plusem tych miejsc jest to ze są to bardzo urozmaicone dania, troche koreańskiej kuchni, chińskiej, japońśkiej czy zachodniej, i do tego bardzo tanie. Na przykład kiedyś za taki właśnie wypasiony zestaw na 2 osoby zapłaciliśmy 13,000 WON (około 34 PLN):
You just point your finger at the dish you want to eat, or write the number down for the lady (or say it in English and there is a good chance she will understand!), pay and take the order number. Next you sit and wait until your number is displayed in one o the stands. I never know where it will be displayed so I look at all of them at once. I wasn't able to figure out if there is any clue on the receipt. So when your number is displayed, just go and collect your dish, grab the cutlery and bon apetit! The dishes really look in about 98% like the plastic ones. Good thing about food courts is that the dishes are really different - some Korean, some Chinese, Japanese and also western type. And another good thing - they are really inexpensive. For example the whole set we order the other day (see below) for we paid 13,000 WON (around £7):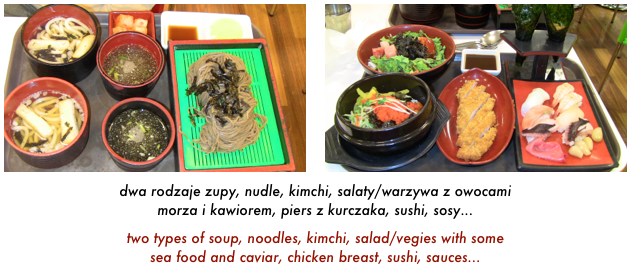 To danie które zamówiliśmy (powyżej), tak wygląda na wystawie: 
The set we ordered (above) looks like this on the display: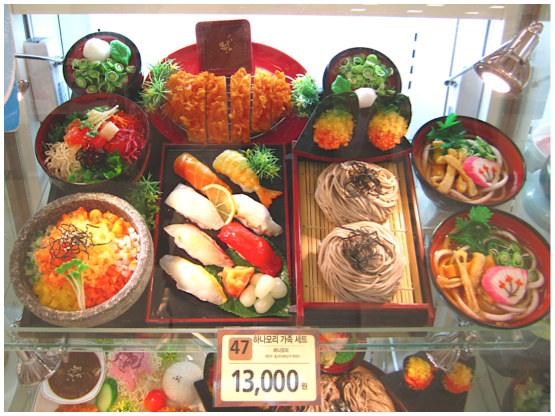 Z dań które ja próbowałam to głownie spagetti bolognese (4000 WON), bądz kotlet z piersi kurczaka z warzywami i ryżem (6500 WON). 
Once I tried spagetti bolognese (4000 WON) for lunch, and another time a chicken breast with veggies and rice (6500 WON). 
W każdym Food Court są dystrybutory z zimną i ciepłą wodą do picia. Obok nich są szafki sterylizujące kubki metalowe więc wystarczy wziąc sobie taki kubek, nalać wody i pić ile się ma ochotę. 
Every Food Court has got a cold and hot drinking water station. The metal cups can be found in the UV sterilising cupboard, so just take the cup and drink as much as you want. 
Krótki film z wizyty w Food Court: / A short video about our Food Court experience: