15/09/2010
Wróciliśmy z Korei cali i zdrowi, planowo 10 września (wojna nie wybuchła ;) 
Podróż przebiegła bez zakłóceń i wylądowaliśmy o czasie. Maya w czasie podróży odkrywała zakątki samolotu i flirtowała z współpasażerami płci męskiej. W swoim łóżeczku przyczepionym do sciany nie spała za bardzo, bardziej odpowiadało jej współdzielenie fotela ze mną (w biznes klasie jest to jak najbardziej wykonalne chociaż nie najwygodniejsze ;) 
Pobyt w Korei zaliczamy do jak najbardziej udanych, ale wszędzie dobrze ale w domu najlepiej ;) 
Korea jest bardzo ciekawym krajem, troche bardziej ucywilizowanym niż kraje Europejskie.  Było to dla nas całkiem ciekawe doświadczenie. Minusem było to że niewiele ludzi mówi po angielsku więc nie udało nam się zawrzeć Koreańskich znajomości (nie licząc kilku znajomych z pracy Piotrka). I nie liczę też Koreanki którą spotkałam całkiem przypadkiem na 4 dni przed odlotem - wróciła niedawno z Polski (po ponad roku pobytu w Warszawie) i mówi całkiem nieźle po polsku, na tyle dobrze że spokojnie mogłyśmy rozmawiać prawie o wszystkim. 
Jako podsumowanie pobytu zebrałam 'do kupy' to co najciekawsze w Korei, co tam napotkaliśmy po raz pierwszy bądź też to co po prostu sprawia, że Korea jest interesującym miejscem pod różnymi względami :)  
We came back from Korea on 10th Sept (as planned) safe and sound (no, the war didn't break out ;) 
Return journey went smoothly with no surprises and we landed on time as well. During the flight, Maya was discovering bits and pieces of the airplane and she also flirted a bit with some of our male co-passengers. In the bassinet, she barely slept, and she preferred to share my seat (it is possible in a business class seat, but not the most comfortable option ;) 
Our stay in Korea was successful but there is no place like home so we are happy to be back :) 
Korea is a really intriguing country, a bit more civilised than other European countries. It was a good experience for all of us. On the negative side, not many people speak English so we didn't make any new Korean friends (apart from a couple Koreans we met, from Piotr's team at work). Not to mention one Korean girl I met purely by accident 4 days before our departure. She had just came back from Poland (after over one year stay in Warsaw) and turned out to be speaking Polish good enough so that we could talk about almost anything. 
As a summary of our stay in South Korea I decided to put in one place all the cool and interesting Korean stuff, that we saw there for the first time or stuff that simply makes Korea a very interesting place to live :)
Samochody marki Samsung  - jest ich sporo i to jedna z najpopularniejszych marek samochodu w Korei. Są starsze modele, są też nowsze - i te całkiem fajnie sie precentują. 
Samsung cars - there are quite a lot of them and it is one of the most popular makes in Korea. The older ones aren't as impressive as the newest ones.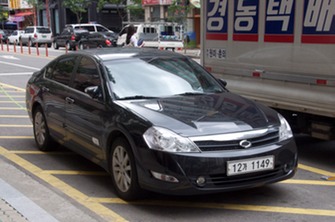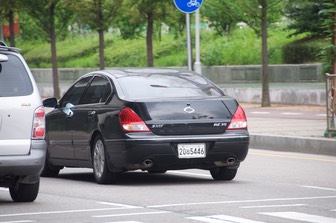 Pieluchy marki LG - pieluchy które wygrały w moim teście 5 rodzajów/marek pieluch ale nie do końca były najlepsze. Nigdy nie myślałam że tak można zatęsknić za sprawdzonymi i niezawodnymi Pampersami :) 
Z tego co się zorientowałam to widziałam też kosmetyki LG, a logo widywałam też na drzwiach czy  oknach….         
LG nappies - nappies that actually won in my test of 5 different types/makes of nappies, but they were still far from perfect. I never thought I would miss the foolproof Pampers nappies so much :) 
I also noticed LG cosmetics and the LG logo was sometimes also present on windows and doors...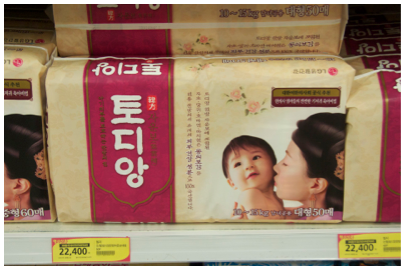 Centra handlowe Hyundai - wiemy że Hyundai produkuje samochody ale nie sądziliśmy że Hyundai ma też swoje centra handlowe :) 
Hyundai Department Stores - we know Hyundai makes cars, but we would never thought that Hyundai has its own shopping centres as well :)

W Hyundai DS i w innych centrach handlowych istnieją wypożyczalnie wózków dla dzieci. Całkiem niezły pomysł - wystarczy przyjechać samochodem na zakupy, zabrać dzieciaka i władować go do wypożyczonego wózka. Nie trzeba się męczyć z pakowaniem swojego wózka z domu, który w bagażniku i tak zajmuje miejsce. A miejsca na zakupy nigdy za wiele :)
At Hyundai DS and other shopping centres there are buggy/pushchairs rentals available. I think it is a very good idea - you just arrive at the centre to do som eshopping, grab the kid and stick it in the rented pushchair. You don't have to struggle with packing your own pushchair to your car boot, where there is not a lot space left after you do it. And space for shopping bags is usually indispensable :) 
Ostrzegacze o nadjeżdżającym samochodzie - zainstalowane przy każdym wyjeździe z parkingu. Wszystkie parkingi w Korei są podziemne i na każdy wieżowiec przypada kilka poziomów podziemnego parkingu. 
Incoming car warnings - these are installed at every car park exit and they warn mainly pedestrians that the car is coming. All car parks in Korea are under ground - for every apartment block there are a few levels of a car park below the ground.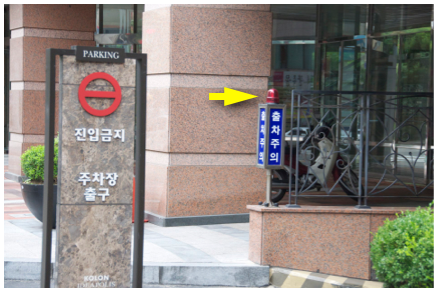 Toalety-bidety elektroniczne  - właściwie to skomputeryzowane deski klozetowe podłączone do prądu (w UK to chyba by nie przeszło z uwagi na brak gniazdek i wszelakiego prądu w łazience). Deske taką mieliśmy w nasyzm hotelu, ale widywałam też podobne w centrach handlowych. Deska którą mieliśmy w hotelu działała jak bidet, i można było między innymi włączyć jej podgrzewanie. 
Electric toilet/bidet seats - plugged to the electric socket (it wouldn't be possible in the UK due to lack of electric sockets in the bathrooms). We had one of those electric toilet seats in our hotel bathroom but I also saw these in the shopping centres. Ours was rather advanced and you could even have the seat warmed up. 

Niebieskie 'gumki' przyczepione do drzwi samochodów które zapobiegają obijaniu drzwi własnych i samochodu obok, przy otwieraniu ich np. na parkingu. 
Blue pieces of rubber stuck to the car doors so that they won't knock other cars when opening. 

Tancerze i 'witacze' samochodów przy wjazdach na parkingi centrów handlowych. O nich zrobiłam osobny wpis TUTAJ. 
Właściwie to dodać jeszcze muszę że nigdy wcześniej nie widziałam obsługi sklepowej witającej wchodzących klientów. Osobiście doświadczyłam tego w E-mart kiedy to sklep otwierali o 10 rano, wszyscy wchodzący na teren sklepu są witani przez pracowników/obsługę, którzy stoją grzecznie w szeregu po lewej i po prawej stronie, i kłaniają się w pas wchodzącym pierwszym klientom, powtarzając jakieś przywitania które słychać było z głośników. Miło ale też śmiesznie :)
Pracownicy Tesco o 9 rano też stoją w szeregu po obu stronach ale wykonują jakiś wychoreografowany taniec do muzyki reklamowej Tesco w mediach.  
Dancers and 'welcomers' by the car park entrances and exits, welcoming all cars coming to the shopping centres. I made a separate entry about them HERE.
I also need to mention that I have never seen the shop staff welcoming entering customers. I experienced it once when I went to E-mart shortly before it opened. At 10:00, all customers entering the store area are being welcomed by the shop staff, who are lined up on the right and on the left and bowing every few seconds, repeating some sort of welcoming texts that you can hear from the speakers in the store. Nice and funny at the same time :) 
Tesco staff also line up on both sides when entering the store, but they do some sort of a routine dance to the Tesco advert music. 
Worki na mokre parasole przy wejściach do sklepów/hotelu - ciekawy wynalazek i w skrocie to taka prezerwatywa na parasol, żeby po sklepie nie chodzić z mokrym parasolem. 
Wet umbrellas stands with foil bags - whenever it rains and you enter the shop or a hotel,  you can 'wrap' your wet umbrella in a foil bag, so that you won't go around the shop with a dripping wet umbrella.
Lody w kubku kupione w sklepie mają do dna przyczepiony dodatkowy schowek w którym jest składana plastikowa łyżeczka :)
Wszelkie napoje (soki, zimna kawa) w kartonikach czy kubkach plastikowych, mają słomkę która teleskopowo się wydłuża na tyle żeby można byłó wypić napój do samego końca :) 
Z tego co ja pamiętam w Polsce kartoniki ze słomką mają słomkę ale przeważnie słomka jest za krótka żeby dopić wszystko do końca ;)      
Ice cream in a tub bought from a shop, usually have a double bottom where a folded plastic spoon is hidden :) 
Any cup or carton drinks (juices, coffee) have a straw that is a telescopic one so it extends long enough to drink everything :) 
As far as I remember drinks with straws in Poland, have the straw so short that it is usually not possible to drink it all to the very end ;) 

Parkingi 'Tylko Dla Kobiet' w centrach handlowych i supermarketach- ciekawe czy ktoś monitoruje i pilnuje żeby nie-kobiety tam nie parkowały. 
Z drugiej strony może chodzi o to że kobiety są gorszymi kierowcami i gorzej im wychodzi parkowanie i miejsca parkinowe są szersze ? Albo po prostu kobiety są bardziej uprzywilejowane w Korei ;)
Women Only parking lots in the shopping centres and supermarkets - I wonder whether anyone monitors it and makes sure that guys don't park there ;)
It maybe the case that women are worse at parking and the parking spaces are wider (?). Or maybe women are just more privileged in South Korea :)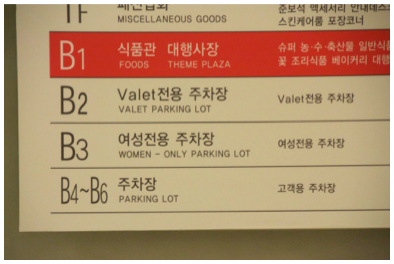 Duża ilośc rowerów - spora liczba to rowery składane na pół. Najcieakwsze są śmieszne rowery, np duże koło w przodzie, malutkie w tyle. 
They have quite a lot of bikes and a lot of people rides bikes. Most of them are foldable in half but I like to funny ones, with small wheels or big wheel at the front and small at the back :) 

Sprzęt do ćwiczeń w każdym parku - bardzo dobry pomysł na utrzymywanie formy, bez konieczności płacenia za siłownię. Mieszkańćy naprawdę korzystają z tego sprzętu, szczególnie w weekendy.
Gym equipment in every park - a very good idea to keep fit without paying for gym memberships :) The residents really use those, especially during the weekends.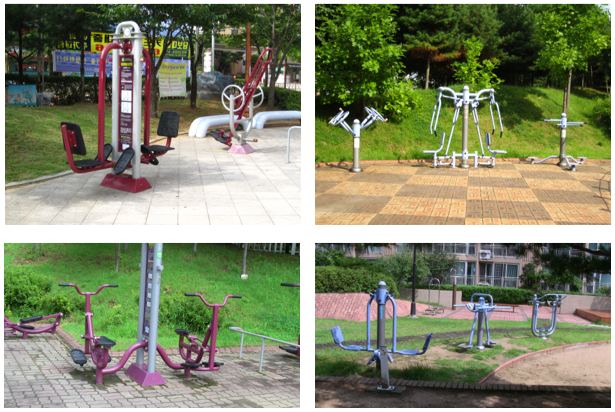 Światła dla pieszych - odliczające i pokazujące jak dużo czasu nam jeszcze zostało do przejścia na drugą stronę. O światłach już wspominałam szczegółowo we wpisie o Bucheon.
Traffic lights for pedestrians - counting down and showing how much time we have left to cross to the other side of the street. I already mentioned these in an entry about Bucheon.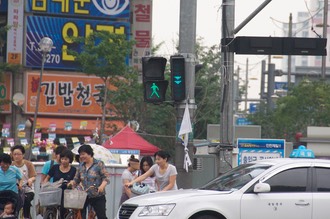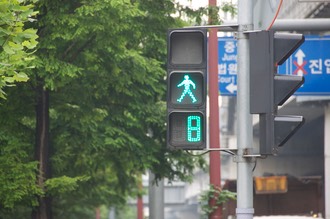 Większośc z tych ciekawostek to drobnostki albo takie 'rzeczy' których niektórzy może nie zauważają. Według mnie to właśnie tego typu drobnostki sprawiają że jakieś miejsce (w tym przypadku Korea Południowa) ma swoją osobowość i atmosferę.
Zobacz filmik! 
Most of the stuff I mentioned are just trifles that many people might not notice. I think those trifles make places like South Korea, a nice place to live and make the country having sort of its own atmosphere and personality. 
Watch a video!